Today's post is Part 3 and the final segment of the interview with the founder of Jaeger Sports, Alan Jaeger.  If you missed Part 1 click

HERE

.  For Part 2, click

HERE

!
BaseballByTheYard (BBTY):  When I played, long-tossing and (surgical) band routines were seen as just for pitchers.  Does your program fit position players as well?
Alan Jaeger:  Absolutely.   There is some fine tuning that can be done to fit specific footwork and needs for a position like catching or middle infield but arm strength and the mechanics needed to throw at any position are universal.
BBTY:  Weight training has become more and more popular among baseball players in the last 20 years.  Is your training program intended to replace weight training or to go along with weight training?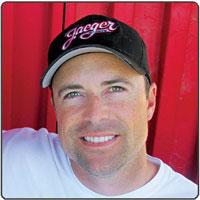 Jim Vatcher
Jaeger Sports President
and former major leaguer
Alan:  We are not against weight training but we do put weight training a little farther down on our list of priorities for baseball players.  As I said earlier, we believe very strongly in the Eastern methods of training that include more core training and total body strength that use Pilates and Yoga that not only improve strength but improve balance, concentration, and flexibility.  All things that we believe are more important for baseball and injury prevention than just brute strength.
BBTY:  So what would be your list of priorities for players when they do train?
Alan:  First would be band training.  Second would be a good long-toss program.  Third would be any mechanical work that may be needed.  Strength training that may or may not include weight lifting would come somewhere after those. 
BBTY:  Your company has been making quite a name for itself with your work with kids of all ages including quite a few big name major leaguers and upcoming prospects.  What's the future look like for Jaeger Sports?
Alan: Our main goal is to just keep pounding the message and educate players, parents and coaches on how important the Mental Game is, and the need to keep Arms Healthy.  Hopefully, people start to become aware of the value of addressing these too topics.  Information on the Mental Game is readily available.  And, it's ok if people don't personally believe in long-tossing but hopefully we can educate people in the sport enough so that if one of their players comes along and has a program like ours that they are not told to stop because the coach read it in a book somewhere that long-tossing is bad.  Hopefully they will just be more open to it and allow the kid some freedom to do what feels natural to him.  We've come across so many sad stories of kids who have been flourishing in a system like ours only to have a coach or organization step in and tell him he's no longer allowed to follow his program.  Unfortunately, many of the results have been a disaster.   We don't want anyone ruining a kid just because they don't know.  Sometimes just staying away from the kid is best.
BBTY:  Well Alan, thank you so much for taking the time for me and my readers.  Best of luck to you and Jaeger Sports.  Personally, I am a believer in what you are doing. 
We hope you enjoyed the interview!  We'd love to hear your comments.  To get more information about Jaeger Sports, go to their website at www.Jaegersports.com.  Jaeger Bands, training program videos, books, and other merchandise can be found there as well.  Do yourself and/or your players a favor and check it out!