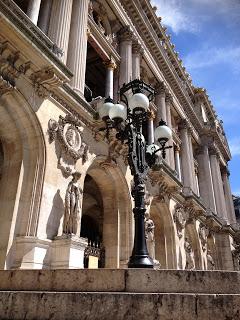 Palais Garnier
Academic travels have taken me to Paris; this loveliest of cities doesn't currently have opera to see, but it does, of course, have what may be the world's most opulent opera house. I was happy to discover that the
Opéra Garnier
makes a good destination for the opera-loving tourist. Its Second Empire splendors are impressive in their own right... and this is an understatement; they are overwhelming, and intended to be so. Still, many of its pleasures, at least for me, come from the fact that it has such rich historical and literary resonances. As the home of the Paris Opera, it has inherited and preserved the holdings of the opera's earlier architectural incarnations. It's easy (if slightly anachronistic) to imagine the Count of Monte Cristo in one of the boxes; Dumas' mysterious protagonist loved the opera, particularly
Guillaume Tell
. The opera house itself, famously (or infamously, perhaps) becomes a protagonist itself in Gaston Leroux' extraordinary fantasy of fin-de-siècle decadence. Today, the house offers pleasures both scholarly and frivolous.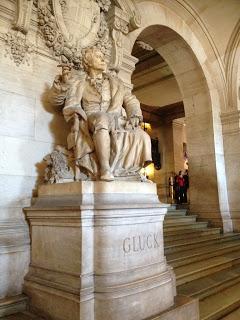 Notable opera composers are quasi-ubiquitous within the house; Gluck and other luminaries of the French baroque welcome hypothetical opera-goers in the foyer (this isn't where one enters as one of hoi polloi getting a ticket to see the house alone, but you can and perhaps should go around and imagine yourself sweeping up the staircase.) The staircase is, of course, a wonder to behold. It is so entirely unrestrained, so much an apotheosis of its type, that I succumbed to it entirely.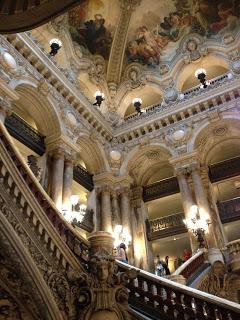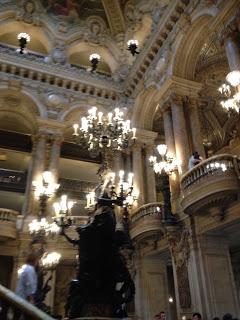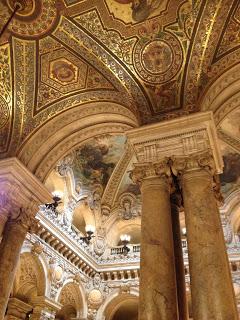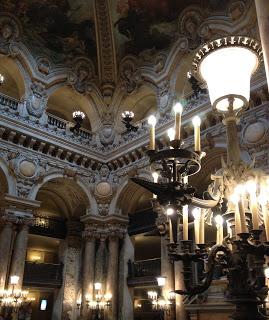 Nor are the wonders of the staircase the only ones on offer; more elegant chambers and hallways abound: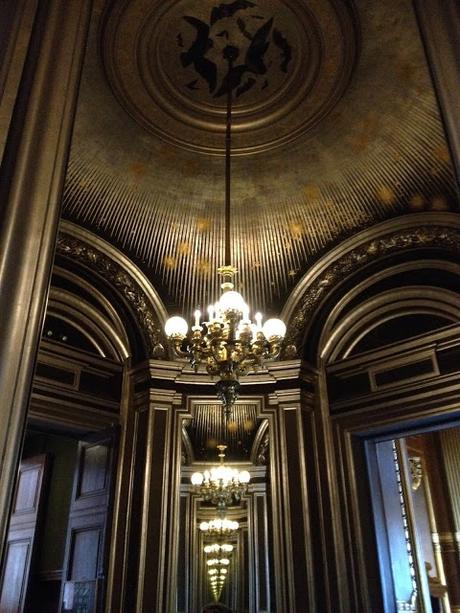 Chambre de la Lune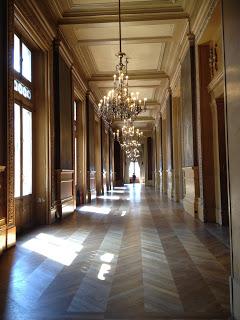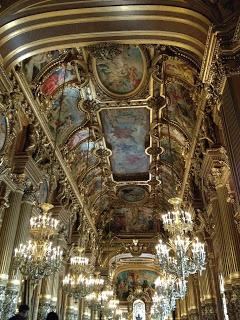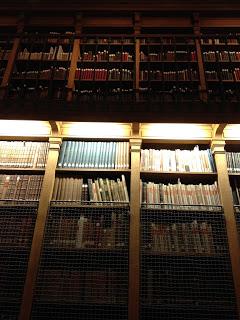 Last but not least, there are the scholarly delights. The Opéra Garnier is one of the sites of the Bibliothèque Nationale, so if (unlike me, alas) you have a legitimate research project there, you can enter into it without fear and trembling to do research in its extensive collections. Even for those simply admiring from afar, the selection available on display is imposing. Composers famous and obscure are represented; complete scores and parts abound, as does scholarship on opera from the nineteenth century to the present. While many tourists wandered past with an appreciative glance, I craned my neck to decipher titles. There are also several portraits on display, of notable singers and dancers; models of the theater and its previous incarnations; artists' representations of performances; and models of set designs... including none other than those for the premiere of Gounod's
Faust
. I loved these, not as some sort of Urtext of staging, but as an impressive demonstration of staging technology. Faust's scholarly chamber is narrow and dark, cut off from the world. In contrast, the public square of Act III, scene 3 is almost terrifyingly open.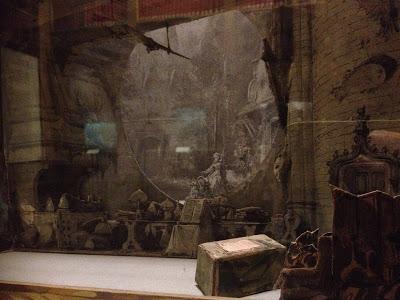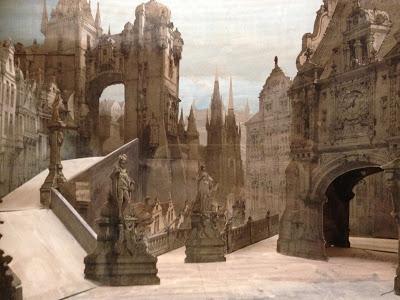 I return to my own scholarly chamber soon, but I thoroughly enjoyed -- and recommend -- a mostly frivolous interval wandering around the opera house. Photography in the theater is forbidden, but from its red velvet to its deep stage to its gorgeous Chagall cupola, it is a spectacle in itself.