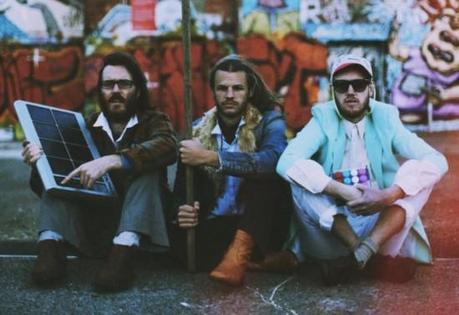 Photo credit: David James
Too often, I find myself having to choose between two great loves — cool, danceable electronic music and woodsy, organic folk. With one, I miss urbanity. With the other, a certain homey, familial touch is lacking (there are no bird sounds in most electronica– what's up with that?!). Urbantramper (@urbantramper), a New Zealand trio, is currently doing an awesome job of marrying these two genres without cutting corners on either side. Their first work in three years, Internet Freedom Is Love, was released this past May on Home Alone Music.
Internet Freedom Is Love seems to have been created solely for its own sake — it truly sounds like no other album I know. It's experimental while still fully accessible, which makes it a very interesting listen. Frontman Lake leads us through an almost psych-pop soundscape scattered on all sides by signs of nature. Just when the artistic, free-flowing vibe has set in, a great little beat drops, and I find myself dancing again (This happened a few seconds ago with penultimate track "Green Light").
One of the main themes of Urbantramper's album, made evident by the title, is the Internet and its importance. As Lake puts it, "It's such a great forum for humanity share and to connect; to communicate and to organize." In the realm of music alone, we all know how pivotal the web can be, particularly for the types of artists we like to feature on this site. It's special to come across a band who not only takes advantage of the web, but incorporates it into their music. The bloops and blurps on the album evoke a definite futuristic vibe while being seamlessly incorporated into other instrumentation (listen to the riff on track four, "Know My Kind").
Simply stated, Urbantramper has a lot to offer. If you're looking for something relaxing yet loaded with subtext and great, diverse sounds, you definitely ought to give Internet Freedom Is Love a listen.