The interior of this Brooklyn townhouse is so beautiful, my eyes can't seem to settle on any one thing in particular, it's filled with so many interesting details.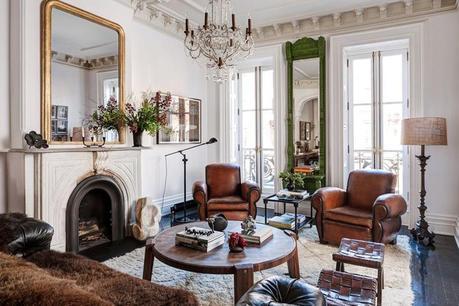 I have always adored fireplaces, even when not being put to use, they make great storage for dried flowers or book, and mantlepieces make such great places for highlighting favorite trinkets and huge mirrors like this one above. The decoration is simple, erring on the masculine, with a touch of french country, and maybe a hint of gothic. The standing lamp in the right corner is heaven. I have one similar in my living room, I've dragged with around for years as I've moved interstate and overseas and back again. It's so easy to update with a fab new shade. Have I mentioned the leather chairs yet?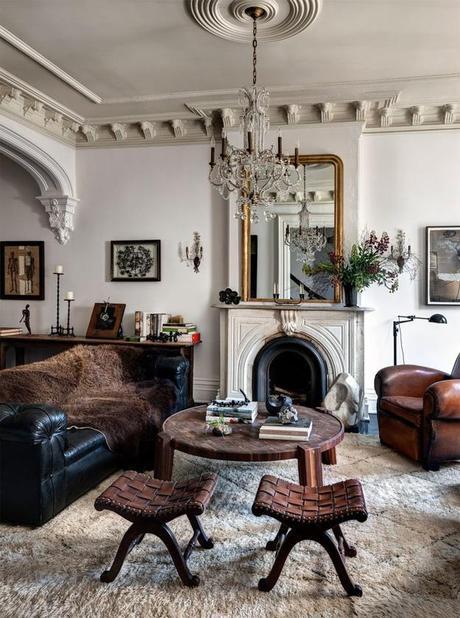 The same room from a different angle gives us a view of the sideboard along the wall. Side boards are great for storing all that hardly ever used stuff like platters and heirlooms such as your grandmother's crystal champagne glasses and much like mantle pieces, they also make great places to display collected wares and favorite things.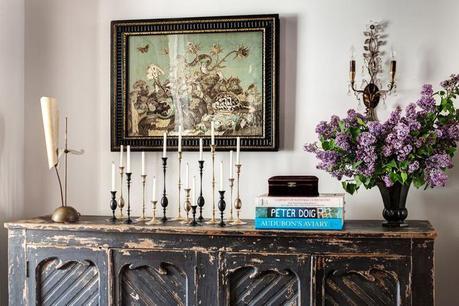 Case in point – the owner of this townhouse obviously has a thing for candlesticks, and it's a pretty impressive collection. Lovely lilacs in the vase balance the candlesticks nicely.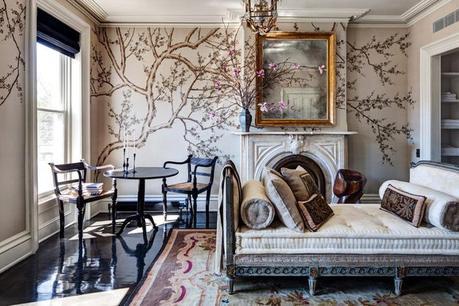 How amazing is this room? The twig and floral theme is prevalent throughout the townhouse. We can see more candlesticks on the little table here too. I think I could sleep quite soundly here yes.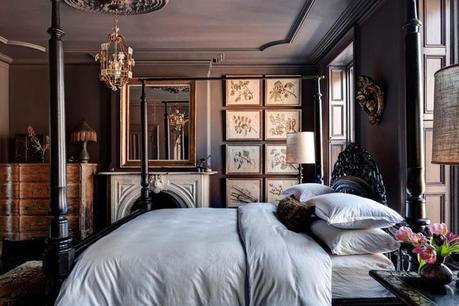 Now, this is a room made for sleeping, yes indeed. Four-poster bed with extra soft pillows, dark painted walls for long, deep sleeps, oh yes, definitely made for snoozing. Love the chest of drawers and the set of botanical prints on the wall.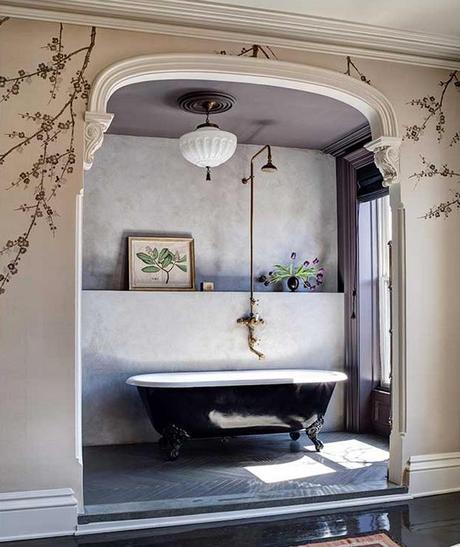 This bathroom leads of the first bedroom with the stunning wallpaper. I think it would be just like sleeping in a woodland. There's nothing like a classic claw-foot bath is there? The exposed pipes just add to the old-world charm. When can I move in?
love & light xo
Credits: interior design, photos