I am in the midst of reading A Tale for the Time Being by Ruth Ozeki (part of the Japanese literature and the Man Booker reading challenges).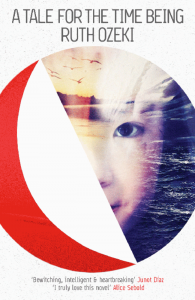 It's taking me some time to finish this book as there's a lot going on here. I took a pause in my reading to talk about some of the stuff in this book that has absolutely intrigued me, and which I want to talk about in my blog without creating one big monster review post in the end that no one will read :D.
Here are some of the intriguing aspects…
Author as a Character in the Novel
One of the first things that made me sit up and pay attention was the name of one of the protagonists – Ruth, same as the author.
A little googling showed other similarities. Like author Ruth, character Ruth lives on a remote island off British Columbia. Character Ruth is a novelist suffering from writer's block (Ozeki's last novel, All Over Creation, was published in 2003, so perhaps this is also true).
Like author Ruth, character Ruth is married to a man named Oliver and her mother has recently passed away. Also, both are half-Japanese.
My conclusion: Ozeki has incorporated herself in her own fictional work and that's something I've never experienced before – an author being such a central character in her own story. It immediately made me start wondering how much of the story was true and how much was fiction. This book definitely merges the line between fiction and autobiography, and plays a large part in my fascination with this book.
Cruelty of Children
This book features a lot of school bullying, and some of it is so brutal, I thought surely this is overdoing it. I am talking about things like spitting, burning, yelling obscenities at a teenage girl walking with her grandma to the corner shop…at first I thought it was exaggerated but a little googling proved that's not the case.
It seems bullying is a systemic practice in Japan, and Japanese authorities are struggling to grapple with this issue.
The following personal blog entry was particularly disturbing (full post here) as the memorial incident in this excerpt is replicated in the book as well:
One student was, over months, taunted, then beaten, then forced to shoplift items for the bullies, and eventually forced to eat dead bees. That student sparked a recent national outcry on bullying when he committed suicide at the age of 13. Teachers at the school were aware of the problem, but had only responded with a verbal warning.

One student came to class to find his desk had been transformed into a memorial, with a wreath and a picture of him in the center, incense lit and a condolence card filled with mocking messages from students and some teachers, including his 57-year-old home room teacher who was aware the student hadn't died.

In Japan, bullying is called ijime, and it has some distinctive differences from Western bullying in that it is rooted in psychological cruelty which may or may not be attached to violence. Some 80% of bullying among school students in Japan qualifies as "collective" violence, meaning entire classrooms vs a single victim, and 90% of the cases are considered ongoing, lasting more than a week.
Isn't it terrible that fiction is so close to fact in this book?
Weird Tastes in Entertainment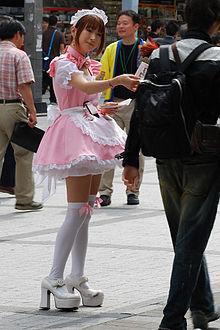 A maid distributing flyers (image from wikipedia entry on Maid café)
On a lighter note, there are mentions of cafés in Tokyo that are called French Maid cafés. Here, men pay good money for food, which is then spoon-fed to them by the waitress! Yes, I googled this as well (spoon-feeding by waitress in Japan, God, my google search history looks so weird now :)), and the first result was wikipedia's entry on Maid café. For an extra fee, men can even get their ears cleaned, and neck and back massages while eating their food.
Unreal! Have any of you been to Japan, actually seen this in action?
This is why reading books based on other cultures is so instructive and eye-opening. I love being able to visualize and experience another place in great depth. Reading just one book a year really doesn't count. This year, thanks to my participation in Meredith's, I am able to immerse myself into Japanese culture like this.
I am thinking more place-based reading challenges may be in my future :).
Good lord! I have posted so many thoughts on this book. What am I going to do for the review?