TAKEAWAY: While we often concentrate on those members of the newsroom who are slow to face up to change, it is also important to understand that change does not come easily to the advertisers. Two experts showed how they have innovated with digital advertising.
It was the second day of the WAN IFRA World Publishing Expo 2013 in Berlin, and we enjoyed two powerful and timely presentations about mobile platform advertising during the 6th Annual Tablet & App Summit.
In both cases, we saw case studies of innovative approaches to mobile advertising at The Economist, as well as at Germany's Axel Springer.
Audra Martin, vice president for advertising/operations for The Economist, and Anja Manouchehri, project leader/market research of Axel Springer/Axel Springer Media Impact, provided a great framework from which the audience could take some concrete ideas home.
The Axel Springer mobile advertising test
Anja Manouchehri, shared a recent test conducted to test behavioral reactions to static and interactive ads for mobile devices.
The tests were conducted for Auto Bild, a supplement of the large German daily. Using EyeTracking devices, the tests offered information at the perception, cognitive and behavioral levels.
It is probably no surprise that interactive ads ruled the day.
Highlights of the study
Here are some highlights of the study: 

In terms of engagement, for interactive ads the activity period is significantly longer than with static.  While a static ad is viewed for about 3.3 seconds, the interactive one is about 15.9 seconds.

Interactive adverts have greater appeal.

Interactive adverts obtain impressive click rates

Interactive adverts do not automatically lead to success.
Six lessons learned from Axel Springer ad test

Anja shared some of the lessons she and her team learned from the test:
-Not everyone uses interactive adverts. Only adverts with obvious branding pay off. Users should identify brand immediately—make brand prominent.
-Interactive elements can only be truly effective if they are clearly visible.
-Interactive adverts can only unleash their full potential when they are intuitively understandable.
-Less is more: too many elements impair our ability to absorb the content.
-Forced interaction is distracting, annoying and can lead to aversion .
-Just including a video is NOT enough.
The Economist: reaching out to advertisers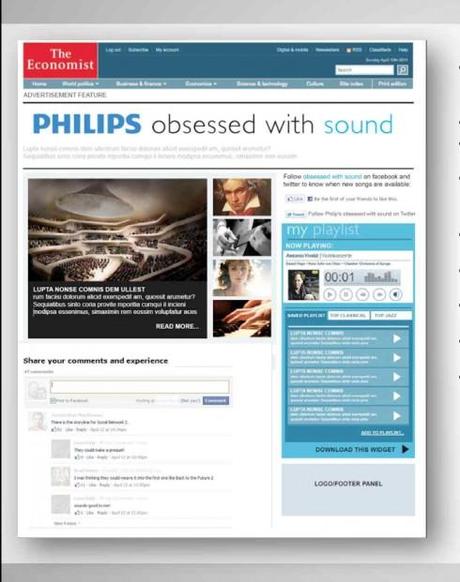 Audra Martin emphasized the importance of teaming up with advertisers to develop content synergies beyond traditional advertising, a strategy that has paid off well for her team at The Economist.
When advertisers wish to reach the elite audience of one of the world's most authoritative business publications, they come to The Economist to map out strategies in which their message blends with the excellent content of the magazine (which calls itself a newspaper, by the way).
"You can create a simple, strikingly designed creative ad that can still be flexible across channels," Audra said.
The idea, she said, is to have information-rich ads that can be engaging.
"For many of our advertising clients, it is important to have a steady presence with consistent messaging on multiple platforms which can improve results in a measurable way," she said.
To make the point, she showed how well known brands such as Philips and GE have come to The Economist to get their ideas and products presented to the magazine's audience.
First, the award-winning "Philips, obsessed with sound" campaign, a total interactive experience involving sound, video and data visualization.
The Philips ad tied with editorial content, included Facebook "Like" widget and music player.
"We acted as the facilitators , sort of saying:  this might be of interest to you," Audra told the audience, citing that this type of partnerships are vital in the world of mobile advertising.
"Audiences will respond to sponsored content if it is engaging and or useful," she said. "Even modest numbers can still mean success if it is the right audience."
GE

Look Ahead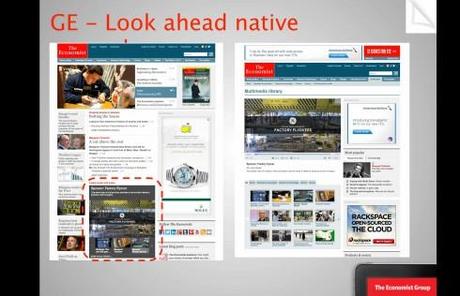 A second case study Audra showed was that of GE (General Electric) which opted for a large integrated content marketing program to help GE get its message to The Economist audience.
Here is an example of "sponsorship" liaison between an advertiser and a publication. A win win for both. 
Look Ahead is a daily update with stories such as "Behind the cloud: A look at the sustainability dimension of data centres". The information in this blog-like presentation is of interest, while the magazine benefits from the advertising revenue.
This involved short, daily "must read" content for those short on time but looking for inspiration and to stay informed, Audra said
What should journalists know about sponsored content?
While the speakers above outlined new and innovative approaches to advertising, another track in the WAN IFRA World Publishing Expo 2013 program devotes an entire segment today, as part of the 12th International Newsroom Summit: Breaking Barriers-For Editorial and Commercial Success in which various speakers will discuss The rise of sponsored content: is it journalism?
The session description states the following:
Corporate newsrooms are churning out content at an ever increasing rate and finding accommodation for their output on news websites. In a world where new revenue streams are critical, do we need to do more to distinguish journalism from sponsored or branded content?
Obviously, this is a dialog that many newsrooms are holding as well.
My take:
From the point of view of the readers/users, and based on what I have heard in a variety of focus groups globally: sponsored content can be done well, with effective storytelling that conveys information and where the obvious lines of differentiation between editorial and commercial are kept well defined, as the case study of The Economist above shows.  In fact, I think that we will see more of these combinations. Readers like the information provided, and are smart enough to differentiate between what is editorial and advertising.
I plan to attend the session described here and report about it.
TheMarioBlog post #1352