Egyptian church torched over mixed-religion romance
"The Associated Press, Date: Saturday Mar. 5, 2011 9:01 AM ET
CAIRO, Egypt — Egyptian security officials say Christian and Muslim families have clashed south of Cairo in a dispute over a romance between children from the two families. The fathers from both families have been killed and a crowd of Muslims has torched a church.
Mixed relationships are taboo in Egypt, where the Muslim majority and sizable Christian minority are both largely conservative. Such relationships are often the source of deadly clashes between the faiths. Christians also complain that they face discrimination."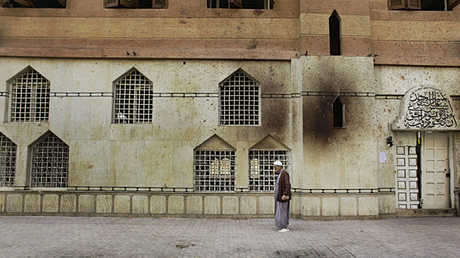 An Egyptian Muslim man walks past a mosque located directly opposite the Saints Church, unseen, in Alexandria, Egypt, Sunday, Jan. 2, 2011
Unrest in Norfh Africa, uneasy calm in Egypt about the future after the collapse of the old regime.  The last thing the Egyptians need now is a family feud over two young lovers. The boy a Christian Copt,  and a Muslim girl.  Although such marriages are acceptable from the religious point  (in this case the boy should convert though, if the girl were Christian it would not be required ) the families do not always agree!  As parents often do not, but in the unstable political setting in Egypt right now it is dangerous.  Certain extremist forces are trying to stir unrest, as we saw fe. on New Year day when suicide bomber destroyed a Church (it was located directly opposite the Mosque in the picture above).
Arab press angered by Coptic church blast
"The Egyptian press has reacted angrily to the suicide bombing that targeted a Coptic church in Alexandria on New Year's Day, with several papers saying it was an attack on all Egyptians, not just Christians.
The state and opposition press called on their compatriots to unite in the face of terrorism but two papers suggested the underlying causes of sectarian tension should be tackled…"
BBC has quoted from 14 articles in the Arab press all condemning the attack in harsh words:
"This treacherous criminal act not only targeted Egypt's Copts, but also its Muslims. It also targeted Egypt's stability, unity, destination and future… We are all in the same boat and we should join hands to confront those lurking to target Egypt's security."
"The Egyptians' commitment to national unity increased after the blast at Alexandria's church… Feelings of anger were rampant and calls for unity and retribution grew, perhaps more from Muslims than Christians… this terrorist attack shocked the homeland and broke the hearts of all Egyptians."
I cannot quote them all so please visit the above link for them.  It is clear that these actions are serving the interests of people who do not really want peace for Egypt but are trying to stir unrest in a wider scale in the region!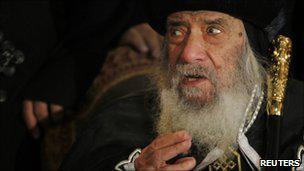 Pope Shenouda of Egypt leads the Middle East's largest Christian minority
The head of Egypt's Coptic Church has appealed for calm as protesters clashed with police for a third day after a New Year's Day blast killed 23 churchgoers.
CAIRO (AFP) – Egypt's Coptic Pope Shenouda III appealed for calm on Monday as Christian protesters clashed with police for a third day in a row after a New Year's Day bombing killed 21 churchgoers. The spiritual head of the Middle East's largest Christian minority also called on the government to address his flock's grievances. The unrest came as police went on high alert and tightened church security for Christmas, which Copts celebrate on Friday, as investigators hunted the perpetrators of the Alexandria church bombing…
Is revolution in Mid-East bad for women's rights?
An article about women in Tunisia and Egypt after the fall of the regimes. In both countries they had already achieved significant progress but are now fearful of the possibility of conservative circles turning the tide backwards.
I am worried but optimistic; the Egyptians and Tunisians have now a great chance to work on democratic changes for a better future for all.