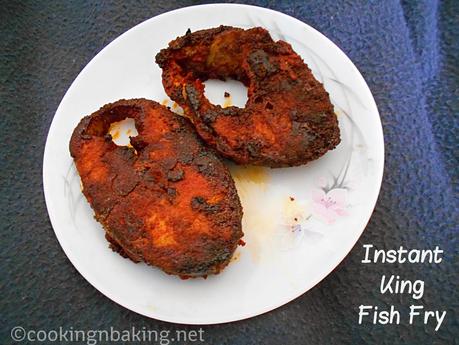 Instant King Fish Fry 
Sunday is special, Sunday cooking is super special and fish is the chosen ingredient by family. Kind Fish | Aikoora (Malayalam) | Vajram (in Tamil) is the most preferred fish. Its tasty, fleshy with minimum bones. Good for toddlers, kids especially. 
This recipe is called instant because only turmeric, chilly powder, salt and lemon is used. Frying should be done on slow flame to cook to perfection. The main tip here is heat a wok with oil and let it smoke, now simmer the flame and use to fry fish. For each batch repeat heating the wok again. 
Ingredients:
500 g of cleaned king fish (sliced) 2 tablespoon of Rec Chilly Powder Salt as per taste Water to make paste 1 teaspoon of turmeric 1 tablespoon of lemon juice 3 tablespoon of any vegetable oil
Method:

Take chilly powder, salt and turmeric powder in a plate. Add water little by little and make a thick paste. Apply to king fish and leave it aside (the longer the better).

Add lemon juice just before frying. Heat oil in a wok and let it smoke. Now simmer the flame and place marinated king fish. Do not over crowd the wok with fish.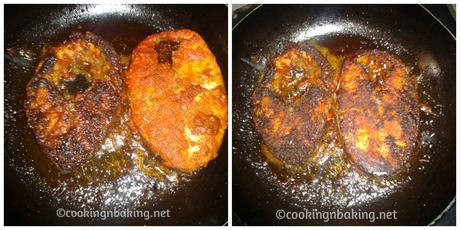 Cover with the lid and cook for 10 minutes. Now gently turn the king fish and cook the other side for 10 minutes (with lid coved) Tasty King Fish Fry ready.