Instant Khaman Dhokla is a very popular Gujarati dish which is steamed and served with spicy coriander chutney. You can have it in breakfast or as a snack or as a side dish.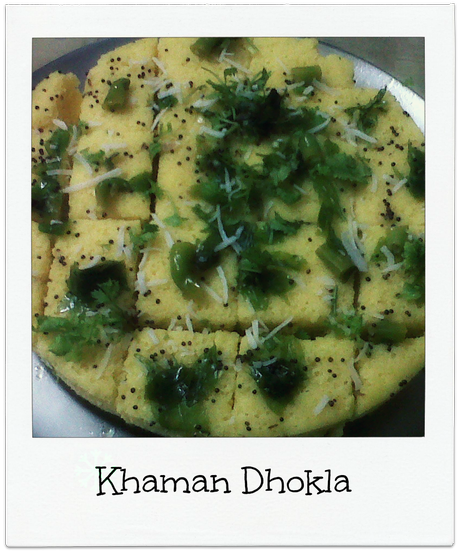 Serving : 6 persons
Preparation time : 5 minutes
Cooking time : 15-20 minutes
Ingredients :
For Batter :
Gram Flour (Besan) : 2 cups
Water : 2 cups
Salt : 1 tsp
Citric Acid : 1/2 tsp
Turmeric powder : 1/4 tsp
Sugar : 3 tsp
Oil : 3 tsp
Fruit Salt (Eno) : 1 tsp
For tempering :
Oil : 1 tbsp
Curry leaves : 10-12
Mustard seeds : 1 tsp
Water : 2 cups
Citric acid : 1/8 tsp 
Salt : 1/2 tsp
Sugar : 2 tsp
Green chili ( roughly chopped) : 1-2
Grated coconut : For garnish 
Coriander leaves : For garnish
Method :
1. First we will make the batter. For making it in a large mixing bowl. Take gram flour add oil, turmeric powder, salt, citric acid and water. Mix it well to avoid any lumps. 
2.

Take a wide flat bottomed vessel, (I used the cooker container) grease it generously with oil. Mix the fruit salt (Eno) to the above mixture (step#1) , at the time you are going to steam. Make sure to mix well.
3. Steam this mixture for about 15 minutes. To check if it's done, insert a knife, it should come clean. Let it cool for about 5 minutes.
4. Cut it into square pieces into the container itself. We will pour the tempering on it.
5. Now we will make the tempering. Heat oil in a frying pan, add mustard seeds, curry leaves, green chili, salt, sugar, citric acid and water. Let water come to a boil.  
6. Pour this hot tempering into the steamed Dhokla which is in the container. 
7. Garnish with coriander leaves and grated coconut.
8. Serve with tomato ketchup or coriander chutney.
Handy Notes :
# Instead of citric acid in the batter, you can use lemon juice- 1 tsp.
# We have poured the tempering into the container so that the

dhokla

absorbs the water evenly and comes out soft and spongy.
# Tempering should be hot when you pour into the container. 
# Tempering should be sweet-sour in taste. You can adjust more according to your taste preference.