Hey there! I know it is very obvious to be confused between two Language Learning Platforms available in the market especially when you are investing your time and money in it.
So today I am going to give you a balanced insight and comparison of both platforms i.e. Instant immersion Vs Rosetta Stone to understand whether it is an effective language learning tool and worth investing. To begin with, it is vital to know that the basic aim is learning a new language and to get a good experience worth our investment. As you continue reading, you will have a clear idea about which one is your type.
Each of the software that is available online follows a different pattern of teaching but it is not necessary that the pattern will please your way of learning. Both of this software follow different approaches and ways of learning. However, you might find certain similarities but the differences are what make them out-stand each other.
Instant Immersion has a wide number of languages in front of you from famous and widely known languages to extinct languages that few people opt for. It is available in Audio format, CDs, or completely online edition. It guarantees to help you with their wide range of language selection following the immerse way of learning by interactive and audio content with a comparatively lesser price. It wins your trust by their '90 days money back' guarantee. It follows proven techniques and methods which are required to learn the language quickly and as naturally as possible.
Through their website, you can purchase their package either separately for different levels or you can purchase all the levels altogether and they also provide bonus audio lessons for free. It claims to cost at a fraction of the cost of Rosetta Stone and have various points to prove their software being effective and learning is guaranteed from their software.
Rosetta Stone is one of the leading and well-known software that is available online for learning a language. It offers several languages following a dynamic approach of teaching and focusing on all the four skills that are learning, writing, reading and listening. With pride, it claims their "TrueAccent" is one of the world's best speech recognition technology that makes them outshine from the other software's in the market.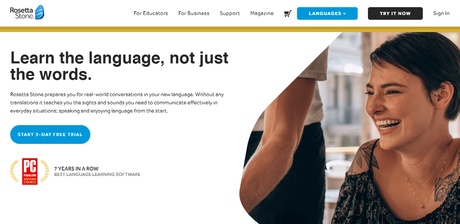 It also provides physical packages through a number of vendors like Amazon. It heavily relies on the usage of pictures and an approach without translation. However, with the large criticism that it received, they added translation to their software which makes it more feasible. Plus it now has paid Live tutoring sessions which one can select according to their time slot to give exposure to the learners by the native speaker.
The number of languages varies from software to software and so does the learner's choice and enthusiasm towards learning. Everyone's reason to learn a language is different from another so does the software's diversity in languages. Depending on your language requirement you have to choose your Language Learning Softwares
Instant immersion promises its course in 120 languages. This diversity in language has made the software really interesting to look at and follow through them. Their courses start from frequently used languages to extinct languages. This variety itself interests the learners to go forward with them.
These courses are now also available online to learn. By signing up you can learn the course offline, which has changed from being available only in a physical package. If you are more of a person who likes to learn with a book, you can also purchase their coursebook available on their website for different prices depending on the language.
Rosetta stone presents its course in 24 languages ranging at different prices and is relatively higher than instant immersion. The Rosetta stone software went from selling in physical boxed software offline to online subscription-based software. However, with this change, they have also improved taking the feedback and the words of their critics seriously.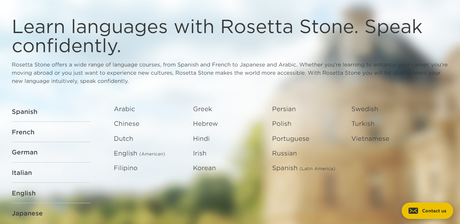 With their immerse method towards focusing on all the four skills that are listening, writing, reading, and speaking, their focus and emphasis remain on speaking and listening. With their approach of second language acquisition and applied linguistics, their aim remains to target audiences with learning in the language they selected without any help from any second language.
Instant Immersion Vs Rosetta Stone- The Pricing Battle

Pricing is one of the most important factors that every learner focuses on. For offline learning in front of their screen, it is necessary to look at the price of the software. For most of the learners, the price remains one of the important factors whether online or offline. Pricing affects learners' decisions and raises several doubts regarding their investment choice.
Instant Immersion Software courses start from $29.95 for level 1 while if you purchase Level 1,2,3 altogether it comes at $44.95 with an additional bonus of one hour of audio introduction. For Audio courses, they have divided the course into a complete and crash course. Complete course of 16 lessons is available at $29.95 while the crash course contains 2.5 hours of the audio plus audio workbook that focuses on listening and repeating stands at $9.95.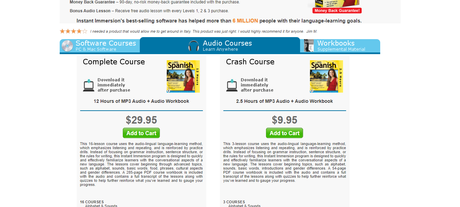 Additionally, if you are someone who likes to write and practice, their digital workbook might come handy for you which you can grab at $14.95. This 115 colored page worksheet can be printed to practice your lessons offline.
Rosetta stone is expensive and the price depends on the length of the subscription you want. You can opt for a minimum of 3 months of subscription. However, if you subscribe for a longer time, it can save you a lot of money. Also not to forget the subscription differs on your choice of including live tutoring or not.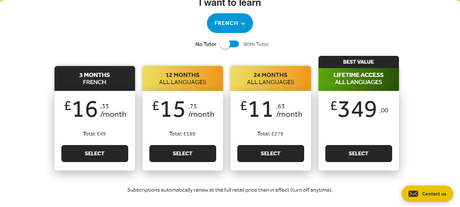 $299 Rosetta stone provides a membership of lifetime with multiple languages. The membership starts from $11.99/month which gives you access to only one language whereas $14.92/month for a year which gives you access to unlimited language selection (without tutor). With a tutor, the price varies from starting at $43 per month to $21 per month for 24 months.
For any software, the content needs to be cohesive. If there is one thing that we cannot abide is the lack of content even after investing all our time and money. When creating software it is essential that artificial intelligence is used at its best. This influences a lot of learners to select their software. It is important that the content is distinctive in order to keep the interest alive. Let us look deeply into the difference in the content of both of the Language Learning Softwares.
Instant immersion, even though, costs less, has enough content for someone who wants to learn a language. The program consists of spoken flashcards and a dictionary with the range of both of them quite far. The course seems not perfectly laid out because it leaves the learners unaware of their actual abilities to learn and they only focus on what they have learned. The lessons are not useful when it comes to 'immerse' learning. It is not possible to use this program without having an actual disc inside your computer.
The software provides CD's which lack information. The lack of tracking of one's mistake also keeps this behind Rosetta Stone. Complex and simple structured sentences are oddly mixed in these CDs. The program also includes games like murder mysteries to make learning fun. You can improve your listening skills by listening to the audios of the native speaker and to understand the pronunciation of certain words.
The audios have proven to be very helpful for the learners more than their actual CD's. One thing about Instant immersion is that there is no shortage of content. Actually, they cram you with such huge content that the transitions between the lessons become unclear. The contents do not really vary even if the complexity increases. They have now announced their courses online as well. However, if you are a fan of the traditional approach of learning then this might be your option to go with.
If you are a novice this might be a problem for you because there are so much content and lack of explanation that it automatically becomes exasperating but if you are someone who already knows the basics and want to brush up your further skills then you will find it really fruitful.
Rosetta stone does not have a specific fixed number of lessons. The courses are divided into units starting from basics and get more complex as your level increases. The inclusion of multiple exercises seems to keep you uptight but after a certain point, it becomes repetitive and tedious. The hinging of the language with pictures might seem entertaining at first but actually gets annoying especially if you are a novice.
All the skills like reading, writing, listening and speaking are focused. With their 'TruAccent' voice recognition engine, you can focus on your pronunciation, and even though it asks you to repeat the phrase or sentence even if you say it correctly, it succors towards perfection pronunciation. For me, the best part is Live tutoring because no matter how much we rely on online courses, at a certain point experience wins. With their online tutor, we can attend a virtual way class and get clarification. Live tutor stands expensive but also comes with certain pros of their own.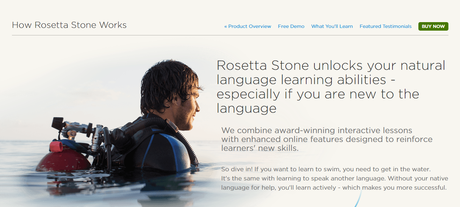 With their 'Seek and speak' one can point a camera towards any object in front of them and start a conversation in their choice of language. This object recognition technology that gives a sense of reality is really amusing. You can click on the translation of the words that you want. This change has come after listening to criticism. However, if you like to take the help of your native language for an explanation then this might not interest you because they believe learning the language is the same from the beginning. This approach isn't likely to be mesmerizing in my eyes too.
A portion of the program is taught by teaching each of the words separately without their context which will never give you 100% exposure to form sentences on your own. Let us take an example, the two sentences. "where are you from?" and " I am from London" if you know these two sentences you can easily talk and frame sentences because you know where to use but if you are taught the meaning of each of these words separately without context you would not know how to frame sentences and this will make you lose your ability to speak fluently.
One thing I would like to say that when we learn a certain Foreign language it is also important to know the basics about where it is coming from and seeing relevant pictures increases our interest more towards learning.
Instant immersion lacks cultural knowledge. It does not include things related to the culture of the language. The irrelevance of the image with the language makes it less charming.
Rosetta stone follows the same path here. Their images are not relevant to the culture of the language. For example, showing a picture of an American citizen when teaching the language of North Asia is not relevant. They can focus on improving this part so that the learner also gets an insight into the cultural values of the country.
It would be good if both of them put culturally relevant photos. For example, when it comes to food they can give an example of traditional food, clothing and much more. This is not a problem but it can do wonders to their software and make a remarkable impact.
Every software has its own pros and cons and it is not requisite that my pros are your pros too. It distinguishes from person to person based on their preferences and their choice. What needs to be observed is how much in return you receive. Here are the Pros and cons of each one that I figured out from my experience.
Instant immersion Pros:
Cheaper comparatively to Rosetta stone.
It provides abundant language choices from popular to rarely spoken languages. It contains lots of flashcards and too many words in the dictionary.
The course does not follow any specific pattern. It looks like the contents are placed haphazardly without any proper goals set by them.
They follow a decent norm in order to keep the learners on the track.
To understand greeting and expression, phrasebooks become compatible.
They follow the image representation method for the learners, with inadequacy, it makes it difficult for users to understand especially when you are a beginner.
Even though the software is hospitable overall, it still lacks a major grammar syllabus.
The lessons are repetitive and get boring after a certain time which is again where Rosetta stone receives a lot of criticism. It is a very significant change that they can bring to make it more enjoyable.
Due to its ease, users can make the most out of it without facing any problem when it comes to using the software.
With their 'TruAccent' you can perfect your speaking skills in order to hold a conversation confidentially.
Its lessons are tidy and divided to focus on each of the skills this might perfect your skills that you cannot find anywhere else.
In terms of the package, the instructions are minimal and do not provide adequate guidelines on how to start.
Even though it provides too much content, it loses the race due to its lack of explanation and grammar. No proper construction is taught and the emphasis is very less on grammar.
Quick Links
It is really not effective when it comes to learning even after they proudly claim that it follows a proven method of what is needed in an immense environment. You cannot learn a language by a heap of contents thrown at you.
It spreads too thin to learn for kids as well as it is too easy for the beginners to brush up their memories.
90 days money-back guarantee.
You can purchase their workbook and practice your lessons in the worksheet if you like writing and learning.
Audio courses are available both full courses as well as a crash course. You can learn crash courses if you want to freshen up with basics for your vacation trip.
Instant Immersion Cons:
Rosetta Stone Cons:
My Honest Review- Which One you should Buy?
It is easy to judge if you are experienced by both of the software but if you are someone who is still choosing your partner; it is tough due to the majority of reviews balanced between good and bad. However, it is not obligatory to follow all the reviews as I mentioned earlier, your preferences stand different than others. I will give you a brief sum-up of both the software.
Instant immersion has sold over 3 million units and at a reasonable price compared to other products available in the market. When you purchase a physical package that does not come with the textbook, you have to purchase it separately which will again add up to the cost and it can be confusing if you are new. The course overall is satisfactory but the way the course has complied together is too slapdash for learning efficiently.
One thing that it does not lack is content and if you are someone who likes a lot of content even in the beginning phase then this one's for you. I would recommend Instant immersion if you already know the basics and are looking for a fun package to nourish their vocabulary. It is not as effective as what they glorify but it can be effective if your style matches their teaching techniques and one can surely learn a new language but calling it 'immerse' is still not worth it. If this is how you like to learn, this course is for you. You can also take the help of the textbook to keep up to date with your language and it can end up being effective and good.
To sum it up, Rosetta stone does a pretty decent job when it comes to learning. With the usage of images, it introduces patterns that help you understand common phrases and grammar through meaningful images. The sentence formation and structures are followed slowly as you progress in a linear progression. One thing that I personally do not find appropriate is the usage of practical phrases that they teach you at the end of the course. This needs to be taught in the beginning rather than in the end.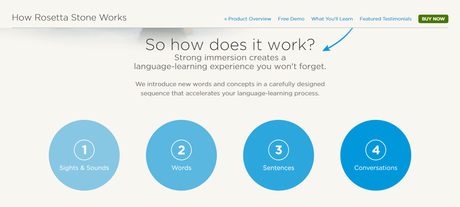 It has clear audios for you to understand the pronunciation but if you are someone who needs help with a translation in your native language then Rosetta stone might not fit in. It added translation where you can click the word to reveal translation but it still does not have a translation for most of the part of their course. This might be a problem for you if you want to learn with the help of translation. With their 'Extended learning' you get access to their phrasebook, stories, talk feature, and games where you can play with the opponent who is learning a different language. However, the phrasebook is limited to certain languages.
FAQs
Both of them are competitors of the same field that contain their own pros and cons and stand still next to each other. For me, both of them stand at their own place but Rosetta Stone is winning the race in my eyes because of their some good features and constant improvements they are making by listening to their learners. Rosetta Stone also won over with their live tutoring because you do not have to physically be present; you can sit in front of your screen and get your doubts clear with an actual tutor.
If you are following up on my advice, even though it is expensive it is worth it unlike Instant Immersion with their haphazardly placed content that can be exasperating who is just starting. I give you a green signal for choosing Rosetta Stone over Immense immersion!
Hopefully, this comparison between Instant Immersion Vs Rosetta Stone will help you in making the right decision for yourself. Thanks!