Did you know that more than half of all U.S. businesses are home-based?  Did you also know – according to the Small Business Association – they estimate approximately 6.6 million of these businesses provide more than half of their household income?
The homepreneur trend is growing leaps and bounds, and will only continue to intensify.  So how do we create that home office to provide us with a positive environment in which to grow?
Entrepreneurs are highly creative and innovative people – and our work environments should reflect that.  For an extreme example, take a look at this Workplace Wonderland where Davidson International Inc. a consumer product design company invested $5 Million to renovate their offices in an effort to encourage creativity and innovation among their staff.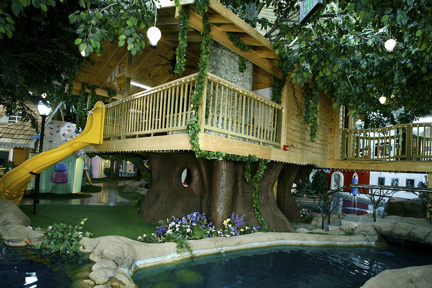 Photo via Wall Street Journal
Now granted a grown up theme park isn't on the agenda for all of us – however if your home office space is stimulating and sparks innovation, then your creativity just flows.  When it's dull, drab and dingy your work will suffer the same fate.
Since almost 90% of home-based entrepreneurs have families, separating the living and working environments can prove to be a little tricky.  So find a spot in your home, where noise and traffic are at a minimum and privacy is optimum.  If at all possible select a space with great exposure to natural light.
In a perfect world a separate guesthouse or a room above your garage, would be the ideal location for a home office, but the reality is that the typical home-based business is located somewhere inside the house.  Either way, you can always find a corner somewhere to design a creative work-space.
Enjoy these stylish home office ideas to get your design buzz going.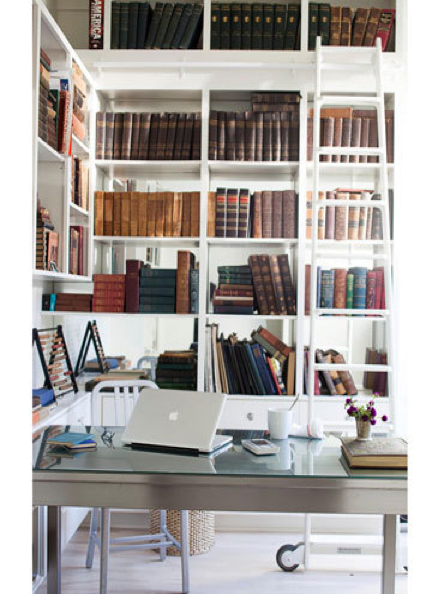 Image via House Beautiful
These space saving floor to ceiling bookshelves with mirrored backs give the illusion of space beyond and actually lighten and brighten this office nook.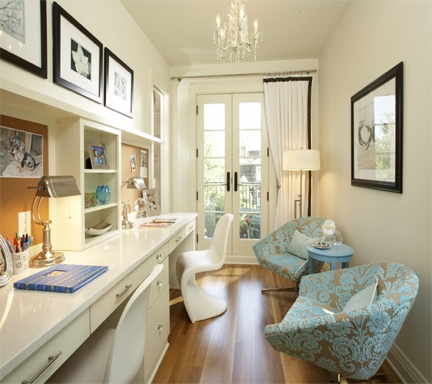 Image via Houzz   Martha O'Hara Interiors
This office is the ideal layout for two.  One elongated desktop divided into two separate workspaces keep the space extremely well organized. The French doors and balcony beyond visually extend the space at the same time inviting natural light and fresh air into the room.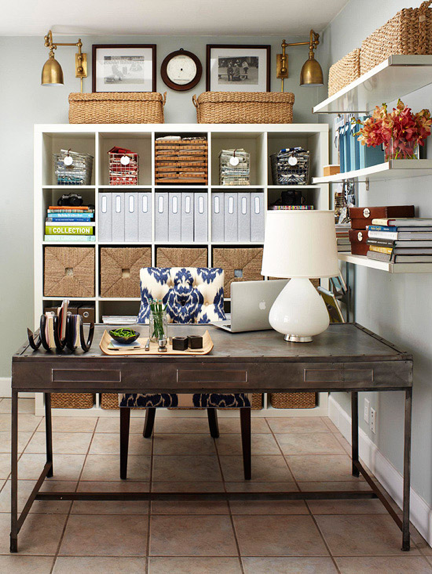 Photo via Better Homes and Garden
If space is an issue simply clear out a corner of a living room or family room and designate that area it as an office space.  A simple bookcase with storage baskets and a few floating shelves create the ideal office corner.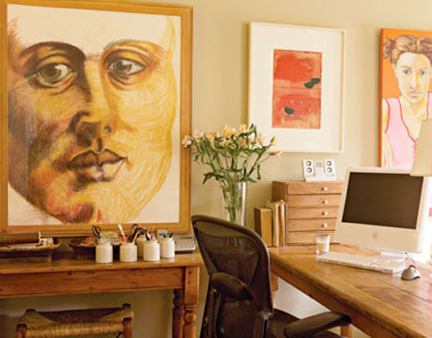 Image via House Beautiful
This Eco-friendly office utilizes furniture pieces from other areas of the home.  The pine console table perpendicular to the desk makes for the perfect L-shaped work-station and exudes loads of personality into this natural space.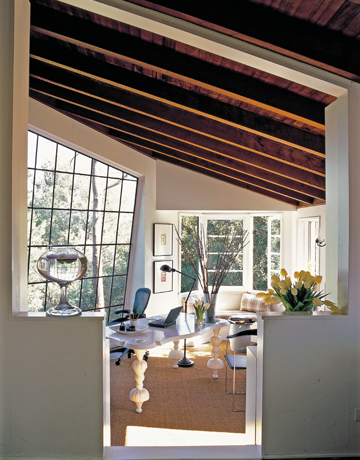 Image via House Beautiful
This spectacular loft is my "dream office".  Surrounded by treetop views and flooded with natural light, this space exudes sophistication and glamour, and encourages creativity and productivity at every turn!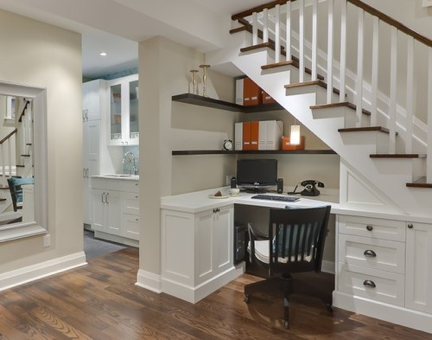 Image via Houzz               Leslie Goodwin Photography
Nestled beneath the stair this basement office is an efficient use of an otherwise awkward space.  Bright cabinetry, floating shelves and task lighting provides a charming work environment.
I would love to help you design your home office.  Contact us at Interior Makeovers Inc.  310-788-0990.
Looking forward to hearing from you.
Stay Inspired!

I encourage you leave questions or comments below this post, and fill out the form on the right hand side of this page to receive your free copy of my special report: "15 Money Saving Strategies When Planning Your Home Renovation"
Article by Lori Gilder, Architectural Interior Designer, Los Angeles, Ca. © 2011 Lori Gilder. Interior Makeovers Inc.