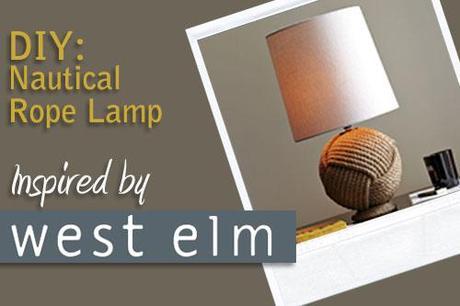 "The pessimist complains about the wind; the optimist expects it to change; the realist adjusts the sails." - William Arthur Ward
February's Inspired DIY comes by way of West Elm, one of my favorite interiors companies. I like their eclectic mix of modern and traditional, especially when it's paired with an exotic twist. To me, their Round Rope Lamp does just that. No longer am I reminded of the 1980s family vacations in Florida and the less-than-impressive decor found in most condos at the time. Remember the Golden Girls? Coocoon? Now you're getting the picture. Fortunately, West Elm's lamp is more chic than cheap, giving me hope for the future of Florida-inspired design.
While it should be said that I love me some Golden Girls, the all-pastel interiors and wicker furniture leave a lot to be desired.  If you're up for a refreshing twist on nautical decor, grab a Mai Tai and join me on the lanai for a super simple DIY. This one's so easy you can do it faster than it takes Rose Nylund explain a game of Gugenspitzer.
 Supplies:
Lamp
Lamp Shade
Rope (Jute, Sissal or Other Natural Material)
Hot Glue Gun
Several Glue Sticks (I Used Eight)
Scissors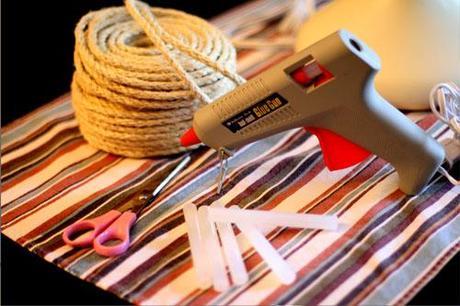 The supplies needed are pretty elementary and can be found in almost any home. I didn't have an old lamp to re-purpose, so I went to the local thrift stores. I found a few that I liked, but none of them had shades. Rather than search all over town for a shade that would work, I decided to try my luck at Old Time Pottery to see if I could find a suitable lamp and shade in one stop. I found the perfect ceramic table lamp with a cute barrel patterned shade for only $12.99. Not a bad deal if you ask me!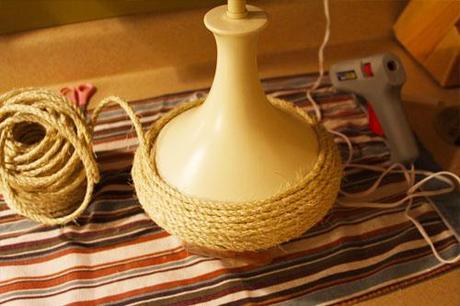 I took the lamp with me to the hardware store to find rope that would work in both color, texture and proportion. I found a 7-foot spool of sisal that was not overly rough in appearance. I only paid $7.00 for it and I have enough left over to do at least one more lamp of the same size. Gluing the sisal down was very simple. Starting at the base of the lamp, glue the first few inches of rope around the edge of the base. I started at the back near the cord so any mistakes would not be easily noticeable. Keep gluing around the circumference of the lamp, a few inches at a time, making sure to press on the rope until the glue cools and adheres to the surface. Keep wrapping around the lamp until you have covered the base completely.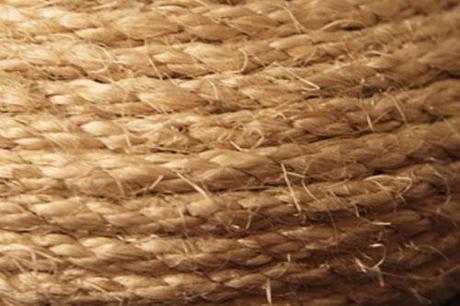 After about an hour of wrapping and gluing (I wanted to go slow to ensure I didn't leave any gaps) the entire base completed. I liked the way it turned out so much that I decided to take a close-up. This would work well on a variety of lamp bases. You could even wrap flower pots or vases with sisal or another material. Depending on how you spin it, you could also use this for a country or farm house look. I found a great tutorial here for a DIY pendant made of a wire hanging planter, rope, and a handful of other inexpensive materials.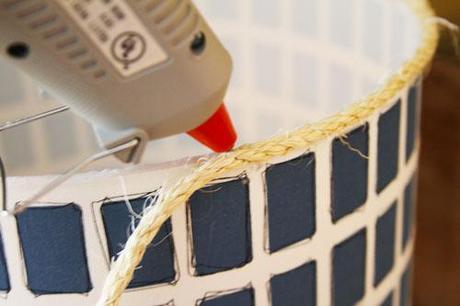 After looking at the lamp and shade together I still wasn't quite satisfied. There was something missing but I couldn't put my finger on it. Luckily for me, the hubbs has an artistic eye. He suggested adding piping in the form of sisal to the shade. This one simple touch really brought the look together! I glued three pieces of sisal around the top edge of the shade, making sure to cover the edge from the inside, the outside, and the top of the shade. A seamless look is very important in creating a piece with a high-end look.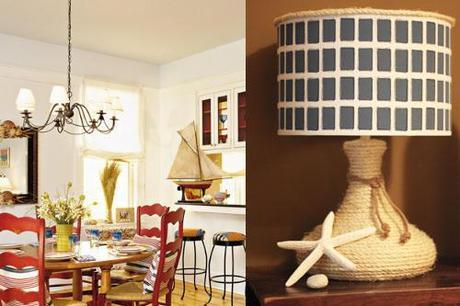 I decided to add the final touch of a smaller and slightly darker rope around the neck of the lamp for a little contrast and to give the piece some balance. My home is not really right for beach-inspired decor, but I think it would look lovely in a room like the one to the right from Southern Living.
I was so inspired by what a little sisal can do that I decided to check around the internet for more projects involving rope. I found one for a re-purposed basket at Centsational Girl, a set of coasters made of sisal at Shelteriffic, and a flower vase wrapped in…you guessed it…sisal!
The Golden Girls would be totally jealous.