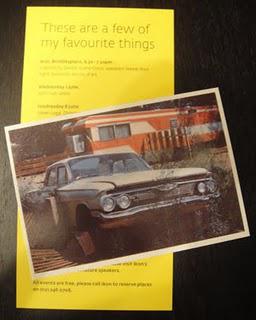 I'm back again, at the Ikon Gallery. This time for a talk with John Salt (whose work is being exhibited presently at the Ikon) under the series "These are a few of my favorite things".
Having visited the Ikon a few times over the past couple of weeks, I have been fascinated more and more by Mr. Salt's art. It's grown on me and I'm not only in awe of the technique he uses, but his overall personality that shinned today. He came across as a very simple person, easily approachable, and one who takes life for what it is.
While the host put forth questions in-between John Salt's 8 favorite works of art, he spoke about his life with almost a childlike excitement that was extremely contagious. Humor and honesty oozed out as he explained why he liked the art he had selected for the evening.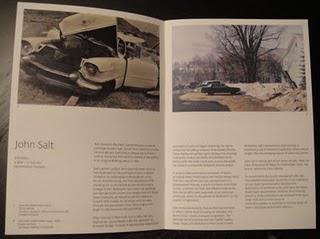 I've met a few artists over time and although Mr. Salt had certain aloofness to him (maybe it's a personality trait in most artists), he came across as a very pleasant person. I believe that having listened to him today, my appreciating for his art has increased tenfold.

 
Below are the 8 works of art that he mentioned.
John Salt's "These are a few of my favorite things"
1.

  
An English Autumn Afternoon, 1852-54 – Ford Madox Brown
2.

  
Grand Street Bride, 1954 – Grace Hartigan
3.

  
Back Street Dodge '38, 1964 – Ed Kienhoiz
4.

  
A Satyr mourning over a nymph, about 1495 – Piero di Cosimo
5.

  
Venice from the Laguna, about 1835 – JMW Turner
6.

  
St. Giles RC Church, Cheadle, Staffordshire
7.

  
The Fur, 1636-1638 – Peter Paul Rubens
8.

  
Bacchus & Ariadne, 1520-3 – Titian
Lastly, I am once again grateful to the Ikon Gallery for giving us a chance to meet such a wonderful artist.