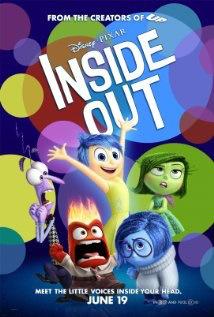 Director: Pete Doctor, Ronaldo Del Carmen
Writer: Meg LeFauve, Josh Cooley, Pete Doctor (Screenplay) Pete Doctor, Ronaldo Del Carmen (Story)
Starring: (Voice Talents) Amy Poehler, Phyllis Smith, Richard Kind, Bill Hader, Lewis Black, Mindy Kaling, Kaitlyn Dias, Diane Lane, Kyle MacLachlan
Plot: After young Riley is uprooted from her Midwest life and moved to San Francisco, her emotions – Joy, Fear, Anger, Disgust and Sadness – conflict on how best to navigate a new city, house and school.
There may be spoilers the rest of the review
Verdict: Brilliant
Story: Inside Out starts with the question on whether you wonder what is going on inside someone else's head. We move on to meet emotions in young Riley's head Joy who keeps everything happy, Sadness who makes all the tantrums, Fear who keeps her safe, Disgust who tries to judge each new experience and Anger who keeps her in a place when things aren't going her way. All these emotions work to help create memories that will stick with Riley for her whole life.
Riley's life is turned upside down when the family moves to San Francisco leave all the emotions in her head confused and trying to react to each unknown situation. Sadness starts trying to fit in where the increased emotion of Sadness starts taking over as Joy tries to keep control.
Joy and Sadness continue to clash and end up lost inside the memory bank with the core memories, leaving the most important parts of Riley's memories falling apart. We watch how Fear, Anger and Disgust trying to keep the headquarters leading to new attitude in Riley. Joy and Sadness have to find a way back through all of the memories and on their journey they watch all of the main memories fall apart while they get help from the imaginary friend Bing Bong.
Inside Out is going to go down as brilliant, it uses the story to cater for every single age that will be watching will enjoy. The near perfect example of how each emotion could have a handle of each moment of your life, it is also great to show how even the best moments can have alternative emotions that change how important they were. This is such a great story that will give you such a range of these emotion going through your head. There isn't much more to say that this could easily be one of the best growing up movies every made. (10/10)
Character Review
Joy (Poehler): Joy is the first emotion Riley ever felt, she controls all of Riley positive memories by trying keep the other emotions in the right place. Joy believes she knows everything but her problem is she doesn't value the rest of the emotions. Joy sums up all the positive memories and thoughts you have during your life. (10/10)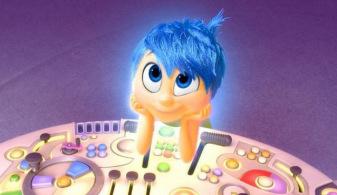 Sadness (Smith): Sadness is the second emotion felt who never believes she fits in the head quarters, she is always trying to help but only causes Riley bad memories leading to her to constantly clash with Joy. Sadness is an important emotion for Riley because without the sadness the joy won't feel as strong. Sadness perfectly capture the idea of depression and not feeling happy every moment of the day. Sadness steals all the moments in this film and shows how important this emotion is. (10/10)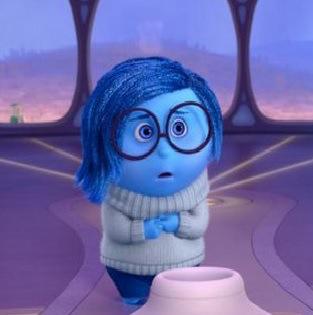 Bing Bong (Kind): Bing Bong is the old imaginary friend of Riley's who is pottering around the memory bank, he doesn't come back to the memories as often as before and helps Joy & Sadness find their way back to headquarters. He completely sums of the youngster stage off life, being the part that will get forgotten in time. (9/10)
Fear (Hader): Fear keeps Riley safe making everything the other emotions getting questioned. He sums up the neurotic moments that show that we all have when the moments unfold. (9/10)
Anger (Black): Anger is the loose cannon ready to explode whenever the emotion needs it, he does take charge of the situations when Joy & Sadness get lost. Anger places in the much needed emotion but only when she is needed. (9/10)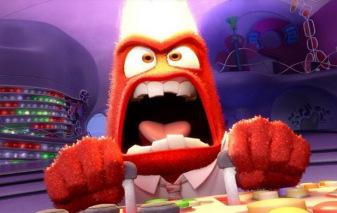 Disgust (Kaling): Disgust protects Riley from unknown moments of her life, Disgust doesn't get as much screen time the rest do but does stick out during the film. (7/10)

Riley (Dias): Riley is the little girl who has all these emotions in her head, she has to go for a difficult time with moving across country and have to start a new life with new friends. Riley is a perfect example of of a child having to move and start again. (10/10)

Support Characters: Inside Out has a few supporting character which includes the parents, we also have the characters that are inside the memory bank that are just doing their everyday job.
Director Review: Pete Doctor, Ronaldo Del Carmen – The pair put together a new perfect animated movie. (10/10)
Animation: Inside Out is perfectly animated as we always expect from Pixar. (10/10)
Comedy: Inside Out has plenty of laughs through the film with jokes for all ages. (9/10)
Family: Inside Out is one of the those perfect family films that everyone will enjoy. (10/10)
Settings: Inside Out mixes the settings real world settings of San Francisco and the scenes from inside our little girls head that have created beautiful locations showing all the moments she has experienced. (10/10)
Suggestion: Inside Out is an absolute must watch for everyone. (Must Watch)
Best Part: Sadness.
Worst Part: Hard to find one.
Funniest Scene: Fear watching the dreams and nightmares.
Believability: The emotions are ones we all ones we have felt. (8/10)
Chances of Tears: You will end up having a few tears through this film. (8/10)
Chances of Sequel: There is very good build for a sequel.
Post Credits Scene: Typical funny scenes through the credits going through other peoples heads.
Oscar Chances: It will be hard to see anything else winning best Animated Picture.
Runtime: 1 Hour 34 Minutes
Tagline: Meet the little voices inside your head 
Trivia: The writers considered up to 27 different emotions, but settled on five (Joy, Sadness, Disgust, Fear and Anger) to make it less complicated. Some of the major emotions that ended up being cut included Surprise, Pride, and Trust.
Overall: This could well be the almost perfect animation film of the year.
Rating