Recently I got a request to do an article on my dance bag and the universe inside of it. I'd like to say thanks to Julie for suggesting the idea!
Click on the photos to enlarge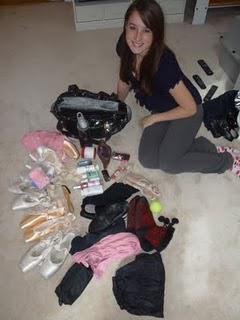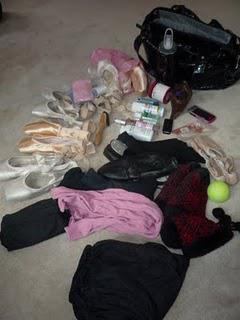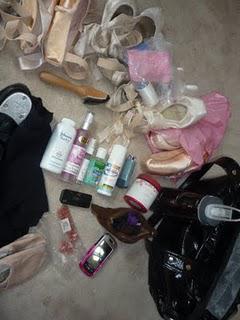 Inside: 4 pairs of sewn pointe shoes, 2 pairs of un-sewn pointe shoes (I'm currently in between brands), sewing kit (thread, needles and scissors), pointe shoe rougher, "little black bag" with pads and toe spacers inside, trash-bag shorts, 2 pairs of leg warmers (black and pink), tap shoes, skirt (black), baby powder, a cooling spray, a mini bottle of Purell, Icy Hot Roll On, an inhaler, peppermint scented foot cream, water bottle, mints, a bag of hair supplies, cell phone, a bag of Advil, flat ballet shoes, tennis ball and warm-up socks.
My dance bag is stuffed to the brim. There are some days that I literally cannot zip it closed! The pointe shoes are usually kept in my locker at the dance school but over vacation I like to take them home with me in case I wanted to do a little practicing. The sewing kit that I keep in a plastic bag is unbelievably handy. There have been several occasions in which right before a show my ribbon and/or elastic began to come un-sewn. There was no way I would risk it coming undone on stage so I just whipped out the little sewing kit and fixed it. Thank goodness I had it!
Like many other dancers, I have asthma and like to keep an inhaler on hand. When I'm doing rehearsals for long periods of time I usually need to use it.
Icy Hot has got to be one of the best things ever invented. It relieves tense muscles like there's no tomorrow and is one of my must-haves.
I think it's a good idea to keep Purell in your bag because many hands are touching the barres each day. During flu season and cold season we wipe down the barres with disinfectant wipes after each use. Not only can Purell keep your hands clean but it can keep your toe spacers or gel pads clean as well.
The pointe shoe rougher is used to literally used to rough up the bottom of your pointe shoes. This can increase the friction between your shoe and the floor and make it much less slippery. I use my "rougher" before every show, class and rehearsal. The cooling spray is a foot spray that some friends gave me for my birthday and the peppermint scented foot cream is great to have during the winter when my feet are extremely dry and itchy.The dance bag itself is just a bag that I bought at Marshalls for around $30.00. I use to have a hockey bag (no joke) and got pretty tired of lugging it around everywhere so I went with something about half the size. It's designed by Steve Madden and is the most convenient bag I've found to date.
Thanks for reading guys! Any questions, comments or requests then you can contact me here or leave a comment below.
Ballerinablogger ~