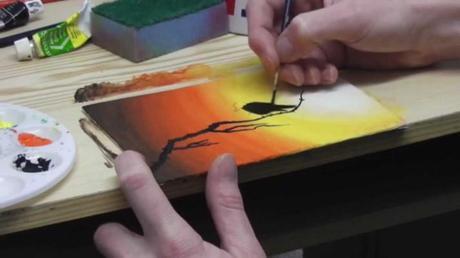 Painting is an art. I personally think that everyone is an artist in one way or the other. I am labeled as a painter because I paint but I can produce something, which is a work of art with a specific meaning and a personal viewpoint. I make every effort towards improving my techniques as a painter. I take a lot of care of my artist paint brush and give a lot of importance to it.
As a professional artist, here I am going to discuss about some of the innovative ways in which a painting can be done. They are a very creative and can produce the art that you desire.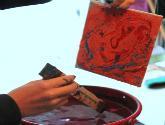 Dip the paper directly into the paint: Splash the liquid paint. This is one of the most exciting and unpredictable means of applying paint. All you need to do is dip the sheet of paper into the watered down acrylic, flicking and splashing water across the work: holding the canvas, paper or other surfaces of painting in air and allowing paint to run down. After an attractive wash of color gets formed, you need to place the artwork flat for drying so that the paint pools and dries up in a naturally occurring swirl.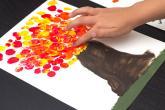 Paint with your entire body: There are many people who may get scared reading this. You should never be afraid of it. It won't create any mess if you do it in a proper way. If you embrace the act of painting, you will become one with the artwork. You just need to get rid of your costly attires that you are wearing and dress yourself in an old painting cloth. After you do this, spread a plastic sheet in corner of your room and apply the paint making use of your feet or hands or any other part of the body, which you dare.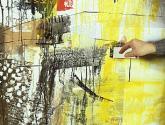 Apply paint using card: You can apply paint using the flat edge of a cardboard. Try this out and see how it works. There are many school students who have tried out this technique and have had wonderful results. It is a cheaper and accessible strategy for painting. With card, you can do a lot of designs also because you can cut, fold or bent it as needed. It is a great material to apply colors to a flat area.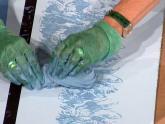 Smart the paint using a rag: There are many people who at some point of time might have felt the need to wipe the paint off their work. This kind of feeling mainly arises when these people feel they have made an error. However, a professional artist can handle this error beautifully creating a perfect art. I have seen many using a rag in for spreading the paint across the canvas until that right intensity are gained. Starting with a detailed graphite under-drawing, I have seen an artist applying acrylic paint and oil over the top and then wiping most of them away.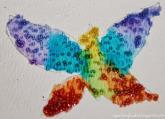 Sprinkle the watercolors with salt or alcohol: There are a few chemicals, which can resist wet paint and can be used for creating textural surface patterns. If you too want to create such a kind of pattern, sprinkle the semi-wet washes of the watercolor with salt, alcohol, bleach or dishwashing soap etc to come up with an intricate, organic pattern.