Guest Post by Heather Green


Necessity is the mother of invention. Some of the most innovative home designs have arisen out of the need to conserve space. Urban apartment dwellers, chic stylists looking to refurbish industrial spaces, and eco-conscious world citizens looking to reduce their carbon footprint or to live more sustainably have all created beautiful homes out of spaces no bigger than a wood shed.
Here are some of our picks for the best designs for tiny spaces:
Studio Apartment, East Village, NYC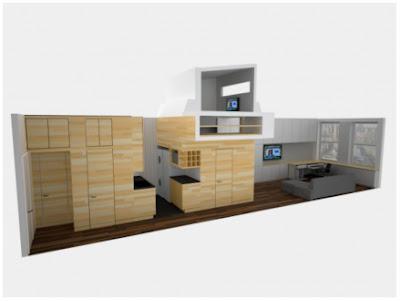 Geometric design and hidden storage make the most efficient use of space in this notoriously cramped city. Vertical space helps create more storage and to make more room for sleeping and living spaces. Even the stairs serve double duty as drawers! http://www.home-designing.com/2010/08/space-saving-tiny-apartment-new-york
Small Space Vacation Rooms 

These tiny 10x10x10 rooms for rent are portable and offer everything you and three of your closest friends would need as a home away from home. There is sleeping space for four, a shower, toilet, sink and kitchen utilities. There is even a flat-screen TV, phone and Internet connection. As with most design for tiny spaces, these modules make the best use of vertical space and interconnected pieces that serve double duty. http://dornob.com/little-luxury-living-small-space-vacation-rooms-for-rent/
California Shipping Container Home 
This California woman decided to find a way to cut her costs so she could stay home with her daughter. The solution? A home upfitted from an old shipping container. She has created a beautiful living space that incorporates natural light and resources to live sustainably while also meeting all her needs.
Turns out, she's not the only one who thought this was a good idea. Check out these other homes made of repurposed shipping containers.
90-Square-Foot Apartment, Manhattan
Felice Cohen lives in a 12x7 foot studio on Manhattan's Upper West Side, which she has made over to accommodate a kitchen, small bathroom, loft bedroom, and even an office space. Hidden compartments and vertical space are key to including everything that she needs – even for entertaining! – without making the space look too cluttered or cramped.
"Lego-Style" Apartment 
Christian Schallert lives in a 258 square feet apartment in Barcelona that he has completely renovated to include hidden spaces that reveal a full-service kitchen, bed, bathroom, and other storage spaces. Every inch of this tiny apartment serves double duty, leaving him the space to do whatever he might need to in his apartment, including stretching out or entertaining friends.
With a little ingenuity, even the tiniest spaces can become beautiful, fully functional homes. These designs show how creative use of space can transform the potential for the smallest homes.
---
Heather Green is a mom, freelance writer, pet lover and the resident blogger for OnlineNursingDegrees.org, a free informational website offering tips and advice about online nursing resources and online lpn degree.