Two weeks ago
Innocent
organized a Twitter party to get parents to talk about school lunch-boxes. After the party, we were lucky enough to be a part of the Innocent Lunch Box Panel. We got sent a lunchbox and some Innocent Kids smoothies, Fruit Tubes and a few Juicy Drinks that have been newly launched.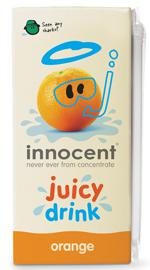 The lovely drinks went down a treat. Juicy Drinks are fruit juices diluted with a splash of water. I really like giving these to my kids. Like the other Innocent products, they don't contain any sweeteners and additives and they are  not made from concentrate.
Inside the lunchox was an envolope full of stickers. Defne loved decorating her lunch box to her heart's content.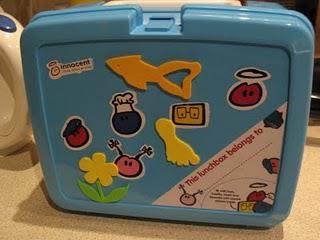 Defne has just started the reception class. For now, we are trying out the school dinners. So far so good, but if she decides she wants to take her home-made lunch to school,  then I would  plan it very carefully alongside our weekly menu. I  suppose these would go  in her lunch box:
Savoury muffins
Sandwiches
Pasta salads
Spinach and feta filo pie (we love the recipe here)
Pita breads filled with hummus and crudites on the side (pepper, carrot, celery, cucumber sticks)
Wraps made with bean pastes
Vegetarian bean burgers
 For winter, soup might be put in flasks with crutons on the side
Yoghurt, soya pudding, oatmeal-raisin cookies, fruit bars or flapjacks for a treat
Also, I LOVE  the idea of putting little  notes inside the lunch box. A little surprise can make little ones' day! If they can't read yet, it could be a little drawing that they would enjoy. I love the notes and ideas that I saw over at
Picklebums
.
Thank you very much to Innocent for inviting us to take part in the Back to School Lunchbox Challenge! Innocent will publish a booklet containing  all the tips and ideas that were shared during the Twitter parties that were held. I can't wait to see all the helpful ideas put together.
What do you prepare for  your children's lunch boxes? I would love it if you share your tips in the comments section.