TAKEAWAY: Today I am in Vancouver, British Columbia, to speak at the annual meeting of the Newspaper Canada group.  This year's conference is titledInk+Beyond.  I share a panel with The Globe and Mail visual editor Adrian Norris. Stay tuned for updates

I am in scenic Vancouver today Friday to do a presentation for the Newspapers Canada group.  I will plan to report live during the opening plenary and also offer commentary and a sense of where the Canada newspapers are, based on my experience here, later in the day. Do stay tuned for updates.
If we look over the conference program, it is obvious that the Canadian newspapers, as the rest of newspapers in the world, are finally coming to terms that they must embrace a multi platform environment.
The opening session today is titled Strategies for Multiple Platforms, and will be led by Geoff Tan, senior VP, Singapore Press Holdings.  This will be followed by my own session, which I share with Adrian Norris,  the managing editor for visual presentations of The Globe and Mail (Toronto)..
In addition to establishing the fact that it is a multiplatform world, the Ink+Beyond conference is also a celebration of newspapers generally: our session is titledProudly Print, and a luncheon presentation answers the question Why Newspapers are Hot!.  At the same time, the conference addresses the important issue of revenue with a session titled: Rethinking Newspapers Digital Paywalls or Premiums?.
And no newspaper conference is complete without a session on Reaching Young Readers, this one about a Newspaper In Education program that has yielded good results for some Canadian newspapers.
TheMarioBlog post #761
Vancouver: Canadian newspapers ready for Ink+Beyond Conference
TAKEAWAY: I am on my way to Vancouver today to speak tomorrow at the annual meeting of the Newspaper Canada group.  This year's conference is titledInk+Beyond.  I share a panel with The Globe and Mail visual editor Adrian Norris. Will be reporting live from Vancouver tomorrow.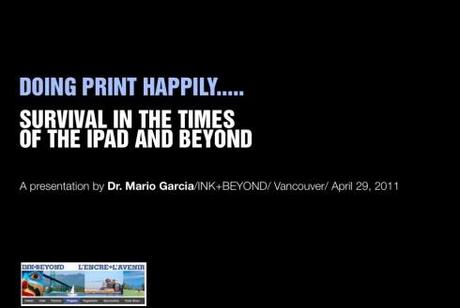 Here is opening screen for my presentation in Vancouver: Doing Pring Happily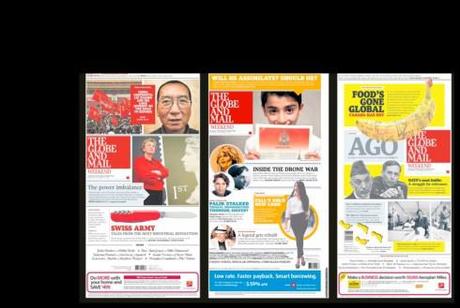 Sample front pages from The Globe and Mail, whose visual editor, Adrian Norris, will share panel duties with me in Vancouver Friday

The Ink+Beyond conference opens with a presentation by Geoff Tan, senior vice-president of Singapore Press Holdings, Southeast Asia's leading media organization, will share his insights on the company's breathtaking business strategies from niche publications to cross-platform initiatives.
My session follows, a plenary with the interesting title Proudly Print, and a program description that reads: Ink on paper is still the core of our business, and design and visual journalism is more important than ever. Renowned American newspaper designer Mario Garcia will present some innovative newspaper visuals from around the world. The Globe and Mail visual editor Adrian Norris will explain the strategic thinking behind the paper's new look.
I look forward to sharing the stage with Adrian, as I admire much of what has taken place at The Globe and Mail after its highly publicized redesign of 2010 (see front pages here).  I will be reporting from Vancouver Friday.
It is interesting that I title my portion of the presentation: Doing Print Happily, a feeling that I try to convey in all my workshops. One cannot produce exciting newspapers and magazines if one is not doing so with a sense of passion, and feeling happy about it.  The products that are done happily reflect that spirit.

Of related interest about The Globe and Mail:
http://www.niemanlab.org/2010/10/doubling-down-on-print-canadas-globe-and-mail-unveils-a-new-print-edition-to-complement-the-web/
For the full conference program:
http://www.newspaperscanada.ca/program
Today's pop ups

With one day to go before the Royal wedding, Bild does a parody with the old style comic books,telling the story of Prince William and Kate's romance: it starts with their first evening together when they met, then the confession of love, and when William is in Africa and prepares to ask Kate to be his wife.  Notice the clock ticking away down to one day and so many minutes and seconds before tomorrow's wedding. By the audio, the pop up includes audio: click and hear the voice narrating the story

By the way, Bild's app will provide live coverage of the Royal Wedding tomorrow: from the official TV signals and the Bild cameras at the scene.
Leave it to Bild of Germany to have a little pop up fun with Donald Trump's hair

Sports story from Bild about a well known football (soccer) player, Manuel Neuer. The headline says: Wall of God; the arrows point to 1. his scar, 2. family, 3. escapade to handball, 4. nerves of steel

WoodWing Xperience seminar May 24-25 in Amsterdam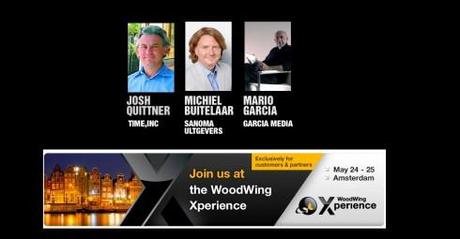 I am honored to be one of three keynote speakers at the upcoming WoodWing Xperience seminar in Amsterdam May 24-25
I did a previous keynote for a WoodWing Tour function in London in 2010.
For those interested in attending, here is more information:
May 24-25, 2011, Amsterdam, Netherlands
http://xperience.woodwing.com