The healthy growth and development of your child is dependent on many factors, only some of which are genetic. The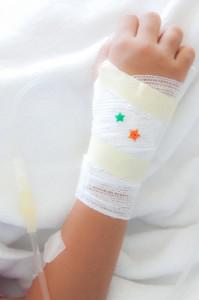 surroundings that you provide to your child, the nutrition they are provided, and their physical development affects how your child flourishes. If your child sustains an injury to his head or other critical part, he or she may not thrive like the other kids of the same age.
The factors that are predetermined at birth due to genetics include the gender of this child, the race, any genetic disease and his biorhythm. These determine part of the growth pattern of the child. If your child suffers injuries, he may not develop as expected. The injuries, both physical and emotional, that you should be cautious of are as follows:
Head Injury
Head injuries often have long term implications, and can severely hinder the growth of your child. If your child has had impact to his skull, get a scan of his brain even if there is no fracture. Internal bleeding can cause damage without any external indications. Long term effects of brain injury include paralysis or changes in the child's psychology.
Injuries from Commercial Products
Toys, baby care products and consumables can have harmful chemicals that affect your child. For example, a product may have lead paint, which is ingested by the child when he puts it in his mouth. Baby care products can have carcinogens or harmful preservatives. These can interfere with the biological balance of the child, or poison him.
Physical Trauma
Suffering from any physical injury can affect a child by impairing his growth. Serious injury to a limb may result in disability for life, but fractures often heal without consequence. Any damage to an internal organ may cause imbalance in the vital hormones in the body, and the child may have to take medication for correcting the balance.
Emotional Abuse
If a child is not provided an emotionally stable environment to grow in, he can suffer the effects long into adulthood. Abuse such as bullying, a hostile family environment or sexual abuse can hinder the normal social development of your child.
This may take place at school, home or at a daycare center. Looking for the signs of emotional abuse and social awkwardness will help curb many of the problems the child may face in future life.
Medical Malpractice
A child will contract many diseases, most of which are treatable. However, not treating the disease on time, misdiagnosis, or prescribing the wrong medication can result in a small cold developing into an infection that will take a toll on the child's health. If a doctor does not fulfill his responsibility, it may affect the child's health.
Protecting Your Child
As a parent, always insure the safety of your child. If you find that your child has suffered any of the above injuries, proper care is necessary. Accidents occur, but with proper care, your child will recover fully. Injuries caused by the neglect of others can be compensated for by filing a personal injury claim. At worst, most injuries will only leave you with a medical bill.
Citations:
Francis Patrick is a personal injury lawyer, and a mother of two beautiful girls. She loves to blog about law and motherhood, and has worked with many prestigious lawyers including Patrick Fannin.