Inika Cosmetics have kind of been on my radar for a while now. I'm always interested in trying out products that are Vegan and are free from a lot of chemicals and all that yeehaw, so when I was sent a few pieces to try out, I couldn't resist letting you know what I thought.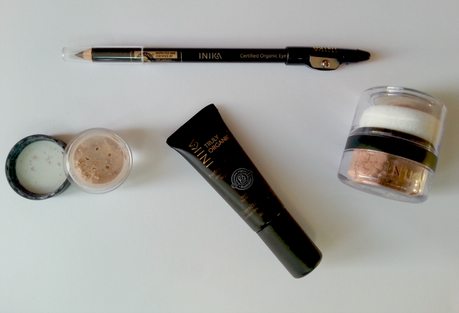 The problem is that with a lot of the typical organic products, they feel a bit 'off', as if they're 'missing' something. I don't know if it's just because some of the chemicals that I am used to finding in products are not in it and so unfamiliarity becomes odd.  I have no idea if that even makes sense haha! Despite this, I had high hopes for Inika Cosmetics because I have heard so many good things about the brand so was only too happy to try the products out and share with you - my lovely readers - my Inika Cosmetics Review!
So kicking off the review, I first wanted to mention a few things about the brand rather than just the products. 
Inika is an animal friendly vegan brand that is free from many harmful chemicals and ingredients, including:-
No petrochemicals, synthetic substances or mineral oils
No ingredients of animal origin
No talc or bismuth oxychloride
No parabens (Butylparaben, Ethylparaben, Methylparaben, Isobutylparaben and Propylparaben)
No harmful fillers
No genetically modified ingredients
No fragrances or color components of non-organic or synthetic origin
No anti-microbial agents produced from non-organic sources
No chelating agents based on EDTA and its salts
No fatty chain source material of petrochemical origin
No sulphonation, ethoxylation or propoxylation
No alkyl sulphates (eg. sodium lauryl sulphate, sodium coco sulphate, ammonium lauryl sulphate)
No alkyl ether sulphates (eg. sodium laureth sulphate, ammonium laureth sulphate)
No polyethylene glycol (PEGS)
No polysorbates (eg. polysorbate 20)
No ethanolamides (eg. cocamide DEA, cocamide MEA)
No chemically synthesized sunscreens
No potentially harmful preservatives such as parabens and sodium benzoate
No gluten or lactose
In terms of the above ingredients, I was most impressed by the fact that they are completely cruelty free - there is no gray area here, they literally use no animal products at all which made me sigh a sigh of relief.  I love all furry things as many of you will know by now,
I was also majorly impressed that there are no Parabens included in the products, meaning these are safe for cancer sufferers.  Parabens can
potentially
cause Cancer, and as such I always look for paraben free products where possible. I also like that there are no PEGS - pesky pesky ingredient.
Anyhoo, onto the products!
I was sent four items from Inika, but if I'm honest, I had my eyes on the Certified Organic Natural Perfection Concealer from the minute it landed on my desk. I just
needed
to try it out instantly.  Concealer is such a staple in my makeup routine and I am always looking for alternatives to the Nars Radiant Creamy Concealer & the Collection Lasting Perfection Concealer.
The product is really different to the other concealers I mentioned. This is creamy with a watery base but actually feels quite nice to apply.  In terms of coverage, this is not the bee's knees for black bags but is definitely one for using during summertime when you get more sun and don't tend to wear just as much makeup.  It's worth noting that this is buildable so stick with it if you want a decent coverage. Disappointingly, this only comes in "light" and "medium" shades which is very limiting, particularly for dark skin tones.  Personally, "light" isn't light enough for my skin (common complaint with me!) but again, if I have a bit of a tan, this would be my 'go to' concealer. Definitely a summer time staple.
Another face product that I was sent was the Mineral Blusher Puff Pot. This is full of loose pigment and has a spongey applicator at the top which dispenses some of the minerals inside the sponge and the idea is that you apply this directly to the skin with the sponge. Great idea in theory but I prefer using a brush for hygiene reasons. With that said, the effect it had on the skin was light, almost unnoticeable at first sweep in fact. It gives an even coverage without being a block of color and I actually really like the product. The color itself is shimmery but in a nice way - it's like a blush highlighter. The only down side to the product is that you can't screw the top off (the sponge part) so you can get into the product itself - aside from that I actually really liked this.
Now onto eyes!
I was given the Inika Organic Eyeliner which is black and has a little sharpener at the opposite end of the liner.  I am not usually an eyeliner pencil kinda gal, but had ideas of using this for tightlining my upper lashes.  Just as a sidenote, tightlining makes SUCH a difference to your makeup look and is probably my favorite eye thing to do - If you fancy a wee blog post alllll about tightlining, then feel free to leave me a comment below and I will be more than happy to do that!
ANYHOO!
To apply, this glides on and feels creamy to touch. The pigment is black as black can be - no hint of a bluey gray color here which I love.
Be sure to set your concealer well with a setting powder so not to get any product transferring to your under eye area throughout the day. I actually really like the Certified Organic Eyeliner and will even go as far as to say that this is my new tight lining eyeliner.
Finally I received the Vegan Mineral Eyeshadow in shade "Pink Fetish".  This is a loose pigment and is quite highly pigmented.  This is a shimmery shade and is light reflecting. I like this but I'm not a huge fan of loose pigmented eyeshadows because of all the fall out. With that said, The color is lovely and there was no creasing when I used this.
There you have my (very long) Inika Cosmetics Review! You can let me know below if you want to see that Tighlining blog post, and please do let me know of any other organic brands you think I should try out!
All My Love
Holly
xxxxxxx