" Inference Jones provides short, fun, and easy-to-use activities that improve critical reading and higher order thinking by developing the student's ability to draw inferences from written text. Research shows inferential reasoning is a prerequisite component to superior reading comprehension. The National Foundation for Educational Research concluded that "the ability to draw inferences predetermines reading skills: that is, poor inferential reasoning causes poor comprehension and not vice versa."
The reader's interpretation is the result of inferential analysis which includes drawing from personal knowledge and experiences, social values, and cultural conventions. The interpretation connects a meaning to the words, providing the reader with an understanding of the character's actions, circumstances, or events in the story."
Sample page: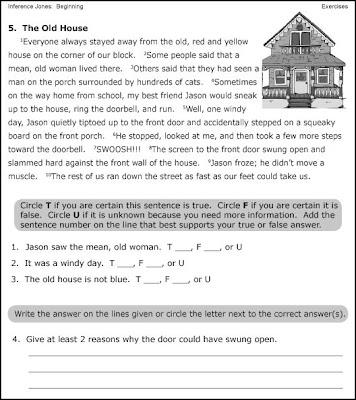 See more samples here.


Our experience:


I had the privilege of reviewing this with my 3rd/4th grader.  Due to a late diagnosis for a minor problem with her vision, she's a bit behind in her reading skills.
Happily, she's making leaps and bounds in her ability and this book fit her very well!
To begin, I would sit and read the paragraph with her.  Then, while still sitting with her, let her read and  answer the questions on her own.  This was just enough to inspire her confidence and empower her to think these questions out for herself.  I was pleased to see her reasoning skills and interest in this book.
What a GREAT introduction to reading comprehension WITH critical thinking for my elementary aged daughter!
Disclaimer:
I received a copy of this book free of charge in exchange for an honest review.SPECIAL OFFER FOR Homeschool Circus SUBSCRIBERS through October 31: Use code LISAtips for a $19.99 discount when you buy any curriculum CD Library plus Spanish Empire library. This post written and property of Homeschool Circus and can be found at: www.upatdawnreadytowork.com.