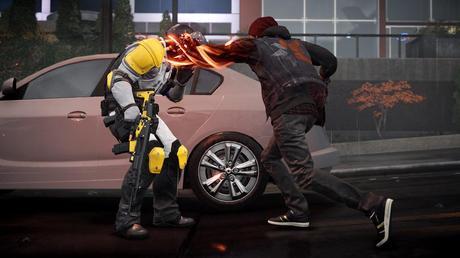 inFAMOUS: Second Son Art Director Horia Dociu has shared a lot of new details on one of the PS4's biggest exclusives from fans on Facebook, giving us a ton of new information to get excited over.  
First of all, he mentioned the reason why the results of the game's particle technology look so beautiful:
"It's a combo of having super badass programmers, and just plain kickass artists. We build the custom tech for this game to take advantage of the PS4, and the artists had lots of input into how we want the tools to work so we get the best results. I honestly feel like the effects, particularly super powers are some of the most interesting ever to be put into a real-time game engine! They're just gorgeous to see at 1080 too!!"
He also gave a little more insight on what kind of interiors and environmental elements we can find in the game:
"The game is all about speed and traversal. There are some interiors, but really you'll want to spend your time dashing across rooftops and scaling walls in the flash of an eye. Just moving through the game is a joy!
We didn't put anything in that we didn't have explicit gameplay for. We wanted thing that tied into the story and were fun to climb etc. You won't miss it thought, there's a LOT of city to run around and explore."
Dociu also mentioned that despite the great weather effects included in the game, there won't be snow for us to play in:
"We get about one snow day in Seattle every two years haha, so we didn't invest in the technology to do snow right. The weather does look great though, and fog and sunsets and all that are just really beautiful when you see it in 1080 on a big screen!"
We also learn that, despite the fact that Delsin can use only one power at a time, it's possible to dynamically draw from sources during battle, switching powers on the fly.
"One power at a time, but you can dynamically draw from different sources during battle. It's like each power set is a different play style- quite cool!"
Fans of the previous games will also be happy to learn that Karma will still play a large role ininFAMOUS: Second Son
"Karma has always been very important, and we've made sure that it plays a big role in this game too. That's about all I can say."
inFamous: Second Son will be launching on March 21, for the PS4.
Source: Dualshockers