One of the goals of baseball players, especially pitchers, is to build arm strength during the off-season months.  In my opinion, one of the best ways to do that is a good long-tossing program.  A while back I interviewed a guy named Alan Jaeger (www.JaegerSports.com) who has become somewhat of a guru for long-tossing.  If you didn't read the three part interview with him, click HERE for the "Interviews" category and scroll down until you see them. 
Of course, one major obstacle that stands in the way of many players when it comes to long tossing is how do they long-toss when the winter weather stinks?  Long-tossing is easy when you live in Southern California but try doing it in upstate New York or Maine or Canada from now to March.  Trust me, long-tossing is not the funnest activity when it's 33 degrees and drizzling.  Like it or not, if you live in these northern areas, your baseball workouts have to be inside.  So how does one complete a long-toss program if all your throwing is in a gym?  Not everyone has access to a gigantic indoor complex.
To do it, you have to be creative.  The diagram below shows a simple solution.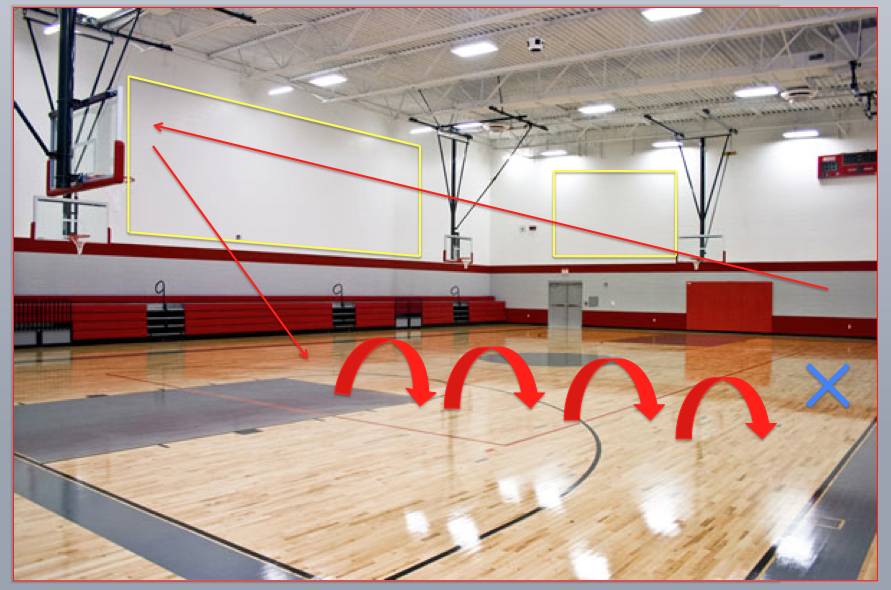 The distance will never be the same but the arc and the force can be just like it would be outdoors.
The boxes in yellow are areas of this particular gym I might throw towards.  Most gym walls are made of cinderblock so throwing a rubber indoor ball (be sure it is the same weight as a real ball) will not damage the wall.  Both me and my partner would stand next to one another opposite the box we are throwing towards.  One guy throws it to the wall with proper long-toss footwork and the partner gets the ball when it comes back.  It's now his turn to throw.  As both arms get loose, both players can increase the force of the throw against the wall as if their partner was farther away.  To promote accuracy, get a ladder and place a few X's with tape to give players an exact target on the wall at which to throw.  A full long-toss session can proceed in this manner.
Being indoors is not always ideal but with a little creativity, just about every outdoor drill can be tweaked to work indoors as well.