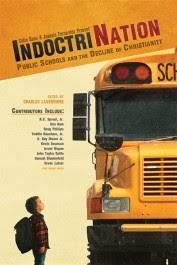 With a huge list of conservative contributors rivaling a Hollywood "A list" celebration, IndoctriNation takes a compelling look at the state of our public school system
Do you know the origins of our current system?
Do you understand its' implications?
Can you weigh the enormity of this on a largely unchurched population?
What you get is on open door to the indoctrination of the masses!
Authors Joaquin Fernandez and Colin Gunn cover topics including:
*ADHD
*Deliberate dumbing down of subjects
*Sexualization of children
*Evangelism
*Separation of Church and State
*Rewriting History
"Is there an idea more radical in the history of the human race than turning your children over to total strangers who you know nothing about and having those strangers work on your child's mind?"
This 370 paged book is packed with eye opening data, quotes and historical information. It is a must read for every parent!
Read a selection from the book HERE.
Disclaimer:
I received a copy of IndoctriNation from
Master Books
, a division of New Leaf Publishing Group free of charge in exchange for an honest review. This post written and property of Homeschool Circus and can be found at: www.upatdawnreadytowork.com.