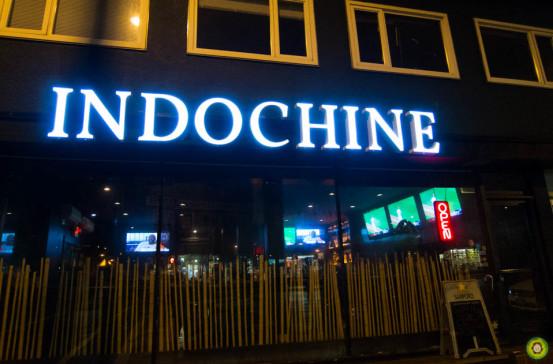 By now, I bet you've all heard of Phnom Penh and their infamous butter beef and chicken wings. Now imagine that you're in the Matrix… if you were to copy and paste the PhnomPenh.resto file onto East Broadway, you would render Indochine Kitchen + Bar! That is because this South East Asian fusion restaurant is opened by the grandson of the Phnom Penh owner.
I headed to Indochine on Wednesday night with some fellow foodie friends: BigD and EatingWithKirby! Kirby wrote up a review already, and you can check it out here.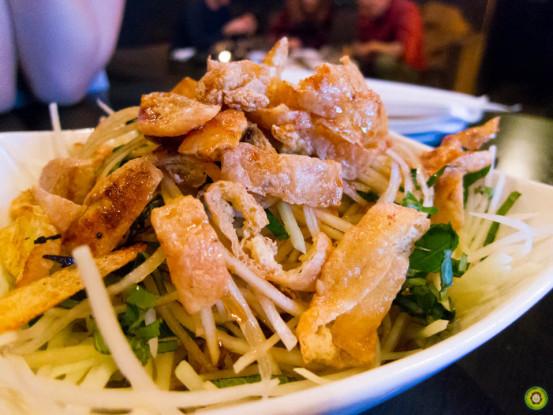 We ordered several dishes to share, starting with the Papaya Salad ($7.5). It's made with shredded green papaya, basil, mint, crushed peanuts and sweet chilli soy dressing – served with either beef jerky or tofu puffs.
Wow, this salad was ultra fresh! At first, I didn't even know it was shaved papaya! I was like, "what are these crunchy sticks?"… fail. Evidently, it was my first time ever ordering a standalone salad in a restaurant, let alone a papaya salad.
I really liked the light sweet chilli soy dressing. It gently hugged everything in the dish, tying it all together. I would definitely order this again!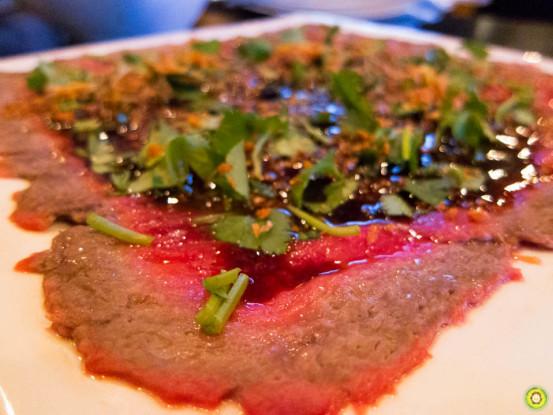 Obviously we had to order the Butter Beef Carpaccio ($12), which was prepared with a citrus Vietnamese vinaigrette, garlic chips and cilantro. To be honest, I didn't enjoy the Butter Beef at Phnom Penh… but I did at Indochine. Unlike Phnom's, the beef was not overly salty and thick. It was thin enough that there was still some mouthfeel, yet not excessively chewy.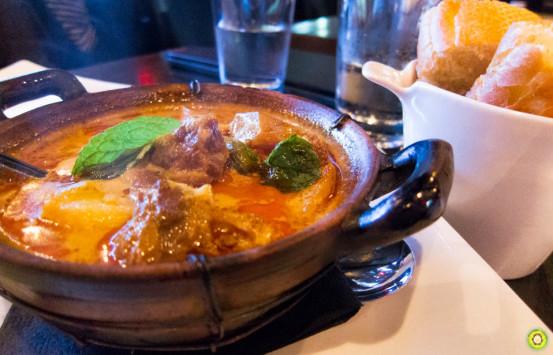 ~ this photo is credited to EatingWithKirby her awesome photography skills ~
We also got the Coconut Red Curry ($9.5) that had beef brisket. It's served with rice or French baguette.
We chose the French baguette slices because it was easier to share and dunk into the curry, which was packed with flavour. The coconut savour was very prominent and the beef brisket was quite tender. However, I found that the curry tasted more and more concentrated after each byte, which deterred me from polishing off the bowl.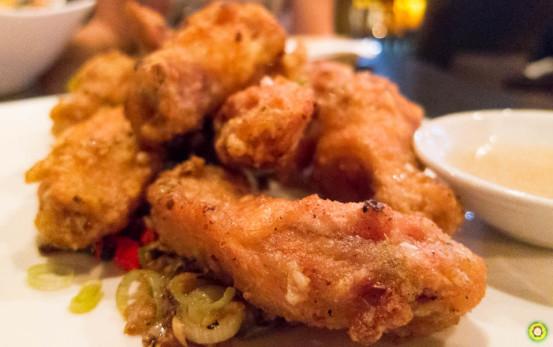 Finally, we got the Indochine Garlic Butter Chicken Wings. On Wednesdays, the wings are half-off so they were $4.75 when we went.
At Phnom, I found the wings to be dry and extremely underwhelming, Indochine's were the contrary. Good amounts of moist meat and a flavourful skin. The lemon pepper dipping sauce went well with the wings, imparting acidity that tingled my tastebuds.
By the end of the night, I thought that the grandson outdid his grandpop! Although these were simple dishes, they were executed very nicely.
Final Bytes
1. More expensive than Phnom Penh
2. 1/2 off wings on Wednesdays!
3. Don't have to wait 45 minutes and plenty of parking!
Foodobyte's Rating

---