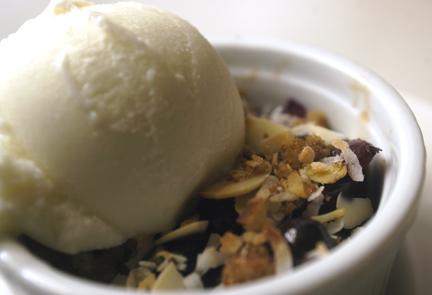 With vanilla ice cream–a perfect summer treat!
I'm right in the middle of finishing all the illustrations of my latest book project.  It will be published by Viking Press next year and is written by the amazing,  award winning Anne Rockwell.
I can't show anything to you yet, but I can say that yummy breakfast food is a part of it.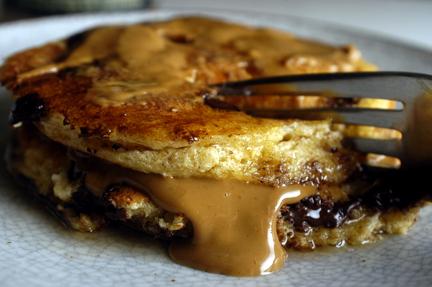 Pancakes anyone?
Denis and I are also getting ready for the launch of our collaborative effort,Hush Little Monster, out next month.  More on that to come soon!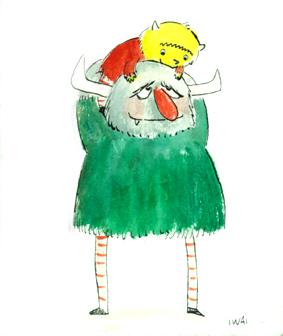 You would think with my workload I wouldn't have time to make dessert on a daily basis.  But….
You would be wrong!
Here's a  super easy and great summertime dessert that you can throw together without thinking.  The secret is to have a stash of topping already prepared.
Mix up a batch of crumble topping.  I use butter, brown sugar, granulated sugar, some flour or oats, spices and chopped nuts.  Sometimes I also add coconut.  I've even made a sugar free one for a friend out of just butter (you could use coconut oil also), almonds, cinnamon, and oats.
Store this crumble mixture in the refrigerator and use as needed.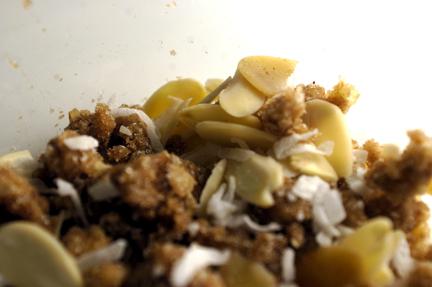 Leftover crumble in container I keep in the fridge
When you want to have some dessert, cut up some fruit — summer is wonderful for stone fruits and berries which work well here.   Mix with a bit of sugar and other flavorings if you like, such as lemon juice, zest, liqueur– have fun.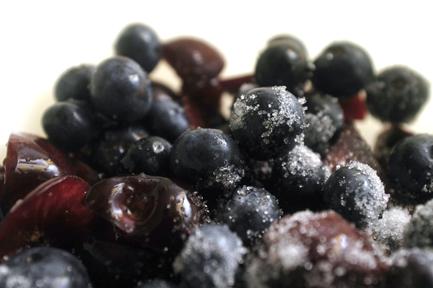 Blueberries and chopped cherries mixed with a touch of sugar
Then fill ramekins.  We use about 1/2 cup of chopped fruit mixture per ramekin.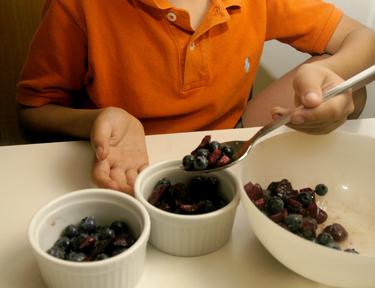 My assistant spooning fruit into ramekins
Top with however much crumble you want.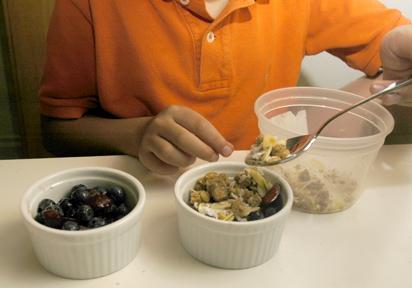 Putting on topping
Bake at 375 F degrees.   Since it's been so hot, I just use our Cuisinart toaster oven, aka Easy Bake oven, because it preheats so fast and doesn't heat up the apartment.  It only takes ten minutes to warm the fruit up and brown the crumble.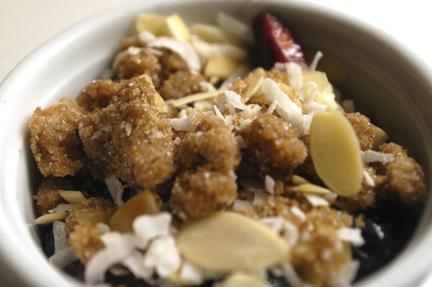 Unbaked crumble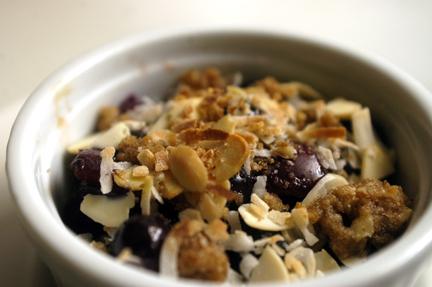 Baked crumble – after ten minutes in toaster oven
You could also use a larger baking dish and make a big batch at once time, but you'd need to bake it longer– about 40-45 minutes and use a regular oven.
I like the little individual ramekins because they are portion controlled, heat up fast, and are small enough to fit in our above mentioned toaster oven.
Also, they are cute.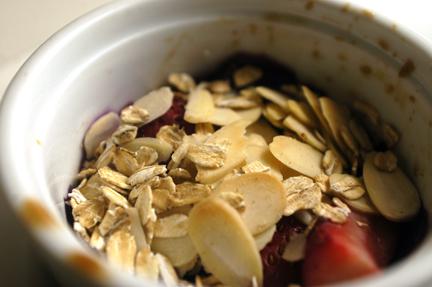 This is a sugar free, dairy free version: Just fruit, oats and sliced almonds!
My son loves making these crumbles.  Serve with whipped cream or ice cream and enjoy!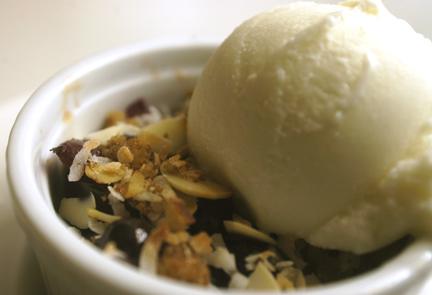 Warm, crunchy, and creamy!
Individual Summer Fruit Crumbles
½ cup chopped summer fruit and/or berries per ramekin
½ – 1 teaspoon sugar, depending on how sweet you like it – or none at all
dash of liqueur (such as Kirsch or Cointreau) or lemon juice or zest if you like
Crumble Topping – use however much you like (see recipe below)
Preheat oven to 375 F degrees.
Stir fruit and sugar (and liqueur, lemon juice, zest, if using) together.  Spoon into ramekins.
Top with crumble.
Bake for about 10-15 minutes until lightly browned on top.
Serve immediately or cool to room temperature.
If you want to make one big crumble for 4-6 people, use about 2 ½ pounds fruit with ¼ cup sugar and stir together in a square baking pan or pie pan.  Top with crumble mixture.  Bake for about 40-45 minutes at 375 F degrees.
Crumble Topping:
6 tablespoons flour or oats or combination
¼ cup packed brown sugar
¼ cup granulated sugar
pinch of salt
cinnamon or nutmeg to taste
5 tablespoons butter, chilled, cut into pieces
¾ cup chopped nuts (I like sliced almonds)
Note:  you can also add in dried coconut, sunflower seeds, pumpkin seeds – use whatever strikes your fancy.
Pulse flour, oats if using, with sugars and salt and spices in a food processor a couple times to mix together.  Add butter.  Pulse some more until mixture is sandy.  Then add nuts (and seeds and coconut if using) and pulse a few times more until mixture is clumpy.
Store in a container in the refrigerator until ready to use.