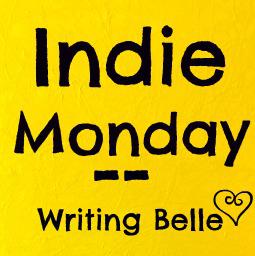 Happy Monday, folks! While Monday may not symbolize rainbows, unicorns and winning lottery tickets, it
does
 mean that I get back to featuring one Indie Author for the new week. Are you ready? Great. Today's author of the week is the lovely
Law Reigns,
who wrote a New Adult book called
Superheroes Wear Faded Denim.
 Is it just me, or is that title one of the best I've come across all year? I love it.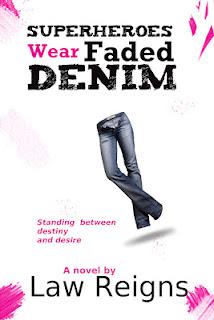 Cute cover!
Blissany Cherry is tired of sleeping around. Her neurologists' sleep solutions have failed her. Now that her bizarre sleeping habits have begun to include week long dreams she has resorted to her own methods for a cure. (Click HERE to read more!)
Law swung by to talk about her novel, and some of the things that inspire her as a writer of fiction! 

Hi Law! Thanks for stopping by. Why don't you introduce yourself to everybody? Hello all love fanatics and adventure druggies. I am a fellow love fanatic, and nothing pleases me more than giving you a glimpse into my life. After reading this and you find I am cool, people, please do not be afraid to connect with me over social media and share a little bit about yourself.
A lover of all things romance, my friends can attest to my odd interest in their romantic endeavors. When they forced me out of their love lives, in order to get revenge, I turned to writing books based on their failed attempts to find love.
Just joking.
Though I find real life experience makes writing easier, I try not to steal my friends' lives and gift wrap it in book covers.
When I am not writing, you can find me in the theater. I just love plays and musicals. Other things I love are Asian cuisine, Sunkist, and little black dresses with a nice strand of pearls.
You're a New Adult writer - which is an awesome category to dabble in! - and your book is called 'Superheroes Wear Faded Denim.' Tell us a little about the story. 
It is a fantasy romance. Two University of Florida students become trapped between destiny and desire when they learn they were divinely created to fight a war. 
My goal was to examine the evolution normal people go through when asked to take on a role they may not be mentally ready for. 
To be honest my main character, Blissany, is not really ready for anything. She's not ready to be in love and she is definitely not ready to be a hero.
But really? Who is?
Correct me if I am wrong, but I doubt if most people had a superhuman come knocking on their door and say, "Mankind needs you to save them," they'd reply, "Alright, let me pause Project Runway and get my gun." 
Not only did I try my best to create lots of intense action scenes in Faded Denim, but I had to sprinkle it with romance. My reading tastes are all over the place, but I just love a sassy romance with well-developed characters.
What inspired you to write this? 
I was inspired by three things really.
One of them was my sleeping disorder. I was born a narcoleptic. Due to being in a car accident with a drunk driver, the effects of the neurological disorder worsened. Some of the effects are: gaps in thinking, sleeping for hours and not feeling rested, and lack of focus. This disorder led me to constantly feeling left out and misunderstood. 
I am sure there are times we all feel like this. People do not need a sleeping disorder to feel different really, and I wanted to write a story for those moments in life when we feel like we are worthless. Blissany definitely has that feeling. She has to overcome it like we all do if we want to be successful.
College was the second thing that inspired me. I would admit to being a lover of all things diverse and different. Joining cultural organizations and partying with the Greeks was fun for me. Believe me, I did not discriminate when making friends in college. It not only allowed me to meet tons of different people, but it taught me a lot. I wanted to capture the beauty of those experiences in a novel.
The third thing that inspired me was the desire to find true love. What good romance does not get dirty and personal with that concept?
This is a favorite question of mine: what's your favorite reading snack? 
I am an eater. Every food is my favorite reading snack. Thank goodness P90x was invented. Even though you'll find me trying to eat barbecue while reading my Nook, I have learned to settle on popcorn. It's much cleaner.
Have you been inspired by any author's work or by a band's music? 
I would listen to 30 Seconds to Mars when writing Faded Denim. Night of the Hunter inspired my character evil character, Apollyon.To connect with Law, visit here. Check out her Facebook pages here and here. You can also find her on Twitter, GoodReads & Pinterest!
Thanks for checking in, peeps! Have a great week!