As the sun slips under the flat, freshly harvested fields and the stars slowly awaken, I write about the second movie in my Halloween Treat marathon…tonight's feast is a fun flick called "The Janitor"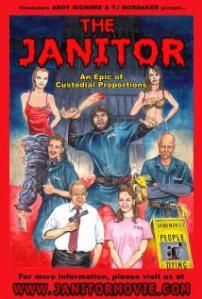 The Janitor is a 2003 Clean Kill Productions horror comedy. It fits the bill on both horror and comedy!
The Janitor is the story of Lionel, a lonely custodian who's days and nights are filled with taunts and teasing from the office workers in the building he cleans. On top of that, his dream of being a janitor at sorority house just doesn't seem to ever come true. So what's a guy to do? Revenge in the highest. First at the office and then at the sorority house! His weapons are the tools he uses to do his janitorial work: plungers, mops, and brooms…to name a few.
Lots of laughs, gore, and nudity….don't miss this one!!