Still going…I had planned on pumping out a review of a different Indie Horror flick in my collection every day in October. Yeah good luck with that, right? I am up to 5 now. I consider that a pretty good percentage since its the 12th. 5 out of 12. If I won 5 out of 12 times I pulled the handle on a slot machine (well pushed the button, I'm lazy) I won something that I would be beside my self with glee.
If I was beside myself I would have bigger problems then where to stash all the cash I won from the one-armed bandits…like how to use my new found superpower.
Oh I upgraded my iPhone today to the shiny and new operation system. I guess its OS5. Yeah lost all my apps. Had to re-download everything. Stanza isn't compatible with OS5 either. No Stanza means I stop reading. Screw it. I'll read old issues of Highlights in doctor's offices from now on. Or start using the Kindle app more, whichever causes me to drool less.
The Indie horror movie I want to share with you this evening is Book of Lore.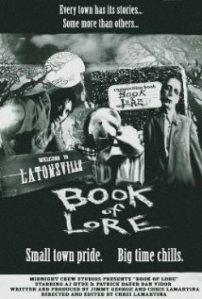 The cover to my copy doesn't look like this at all. My copy looks like the composition book you see there on the cover and the DVD is hand written in a black sharpie. No its not a bootleg, it was a director's copy given to me from Chris LaMartina. He is both writer and director. Book of Lore was made in 2007 but is still available out there. I think when you buy it today, it comes bundled with a second movie. I could be wrong. I might be thinking about parasites bundling in the teeth of a shark.
Book of Lore is about a killer loose in a small town….or at least he was. The killer was called Devil's Left Hand and he made a bunch of babies go away a long time ago. It's a small town and secrets have a way getting tucked away. Not to worry, the Book of Lore is a real book filled with all manner of secrets and clues…its been a while since I watched this one but its pretty good.
Anybody have any suggestions for other cool, neglected Indie horror flicks just shivering for attention?