Today's Indie Horror selection comes from Scott over at Anything Horror Anything Horror is THE sweetest site for learning about upcoming horror releases!
This week's movie is titled "Kids Go To The Woods…Kids Get Dead!"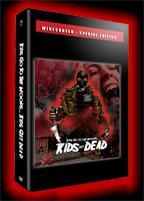 To summarize, this flick is both cheesy and fun! What the hell more could you ask for in a movie??? Oh yeah…there is one more thing you could ask for, and that may be the best thing about this movie! The producers, Dark Star Entertainment, have it on their website for you to watch free right now!!
Free.
Cheesy.
Fun.
Just click here!
The basic plot mirrors the title of this gem. The killer? A hulking figure hiding beneath a gas mask, which is hooked to a small oxygen tank. You can hear him breathing when he is near. The story follows three couples (one is a lesbian couple!) along with an oddball, bookworm brother into a house in the woods to celebrate one of the girls birthday.
Like I said, its fun low, budget horror and its free!! Go check it out!
In other news, I found out about Coffin Hop Its a cool way to get fellow horror lovers to visit your blog and a great chance to discover new talent! I signed up. I will doing something extra exciting and gory that week…Its not to late to sign your blog up for the deadly tour!