Hello my dear readers! I just wanted to announce that in case you don't know about this super cool event yet, today is the LAST DAY !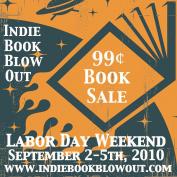 This Labor Day weekend is an ebook lover's dream come true! Over 100 authors, over 130 titles, all priced to
 99 cents
 as part of a Labor Day weekend sale to remember. It is the first annual
Indie Book Blowout! 
We are talking award-winners! Best sellers! All genres! New releases! All priced down to 99 cents PLUS, if you sign up for the newsletter, you'll be entered to win a brand new 
KINDLE
 and 
$100 in gift card giveaways.
Just head to  http://IndieBookBlowout.com, shop, click, buy and enjoy! Happy weekend and happy reading!!
It's also a great oportunity to know new authors! What are you waiting for?! 99 CENTS, guys and girls!