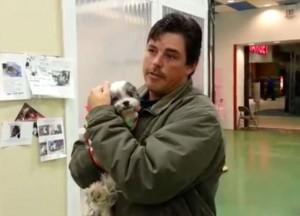 An Indiana man enjoyed a tearful reunion with his dog Bandit Friday, five years after the beloved pet went missing.
The man, only identified as Mike, was finally able to hold his long-lost friend in his arms thanks to a local animal rescue group called "reTails."
"This is my little buddy," said Mike in a video of the touching reunion at an adoption center in Indianapolis's Washington Center Mall. "I've been missing him for five years."
ReTails, which works to save animals from being killed in shelters, rescued Bandit from an animal shelter in New Castle, a city northeast of the state capital.
The organization scanned the shih tzu and found a microchip that linked back to Mike, a resident of Greenfield.
The group immediately reached out, and got a hold of the stunned pet owner, who initially thought the phone call was a prank.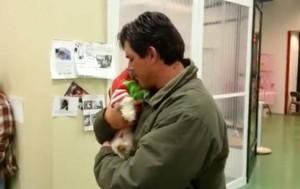 "He stifled a small gasp and I could hear the quiver in his voice, and he said he was missing a dog, who he identified, and had been missing the dog for FIVE YEARS!" reTails wrote on its website.
Mike arrived at the adoption center just 10 minutes later and scooped the tiny pooch into his arms, as volunteers looked on in joy.
Mike bought Bandit when he was just a palm-sized pup in 2002.
The dog was last seen in 2007, when he escaped from Mike's yard and was snatched by an unknown man in a car.
Mike got the vehicle's license plate number and tracked down the man, but was never able to find Bandit until now.
~ Courtesy of NY Daily News
Tags: dog reunited with owner, lost dog