Looking for Indiana covered bridges? You won't have to look far if you are in teeny, tiny Roann, Indiana! This neat bridge is still in use today! One lane traffic only, of course.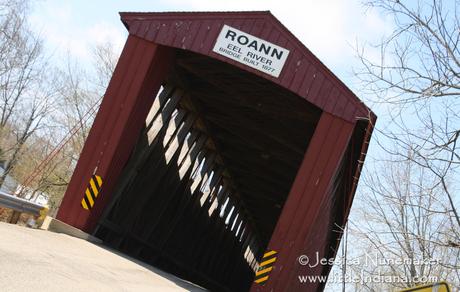 Indiana Covered Bridge: Roann, Indiana
Indiana Covered Bridges: With Character
This bridge was built back in 1877 and crosses Eel River in Roann, Indiana. I have to admit, I am a bit curious as to where this river got its name! Roann itself is a tiny little town but it is worth a pause.
More History in Roann, Indiana
Why? Well, this neat old Indiana covered bridge isn't the only historic landmark in this Indiana town! There's also an old mill, the Stockdale Mill, that looked to be in really great shape for its age.
Apparently, there are tours through the mill on Saturdays (you know I love a good Indiana mill tour!). I'm really sorry I missed out on that one. little Indiana will be sure to catch that the next time! Not only that, there are a few places in the town of Roann that are not to be missed.
More Than a Bridge

I've got plenty more images of this unique Indiana covered bridge, the Stockdale Mill, and the town of Roann. What a cute little town! If you've been following along in the small Indiana town adventures of little Indiana, then you know that it almost goes without saying that I've got plenty of pictures! Subscribe by email or RSS to stay up to date on everything Indiana small town!
Roann, Indiana in Wabash County

View Larger Map
*Map location is the Indiana town center and not the location of the bridge.
little Indiana: Where to Stay, Play, and Eat in Small Towns in Indiana. Discovering Indiana's best small towns! Now get little Indiana on your Kindle.
New! Now offering affordable online advertising for your small Indiana business! little Indiana Businesses is the online presence that you've been looking for.