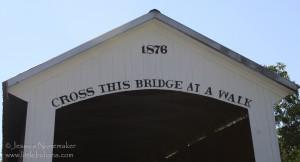 Covered Bridge: Dana, Indiana
Who doesn't love an Indiana covered bridge? Okay, maybe if you are scared of water, it isn't so fun, but for the rest of us? There's something very quaint and rather cool about these historic yet sometimes still usable relics.
Covered Bridges: One Lane Only
Dana, Indiana is home to a very old covered bridge. When I say old, I mean 1876 kind of old! While this bridge is no longer used for cars and trucks, it is still capable of handling foot traffic. Hooray!
If you head over to the rest area where Ernie Pyle's Monument Marker Replica is located, you can't help but notice the awesome wooden bridge spanning across a (dry) creek bed right nearby. There's all sorts of interesting graffiti inside and I do actually mean that!
While it's too bad that people felt the need to mark up parts of the inside of this neat covered bridge, reading the names and dates is something I find rather intriguing. Much like my fascination with a good old cemetery, I can't help but wonder who these people are and am curious about what brought them to Dana, Indiana.
Neat Covered Bridge Inside and Out…and Under!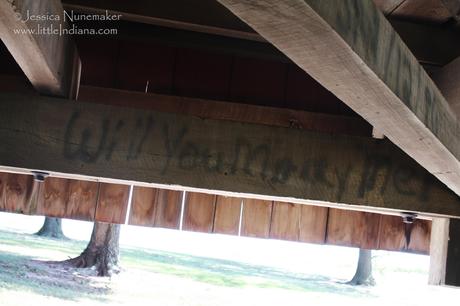 Covered Bridges: Dana, Indiana
There are some rather neat touches to the covered bridge in Dana, Indiana. The big arch that spans the length of the bridge, the the glimpse into the way it was constructed and made, and the history behind it. Think of all the people who once depended on this bridge when riding along in their horse and buggy!
This might be strange to some, but we also climbed under the bridge. As I said, the creek bed was completely dry and, well, we have a 5 year old. Enough said.
The covered bridge just attaches the two ends of the park together so what did little Indiana, hubs, and sons do? We carefully climbed down the rocks and looked around. You'll never guess what we found!
Besides the many birds nests (neat), an old giant wasp nest (eek!), we discovered a marriage proposal. "Will you marry me?" Was this for real? Did these two actually tie the knot at some point? We'll never know. But it was kind of neat to see!
See this and more Dana, Indiana images on my Flickr photostream.
Covered Bridge near Ernie Pyle Monument Marker Replica in Dana, Indiana

View Larger Map
little Indiana: Where to Stay, Play, and Eat in Small Towns in Indiana. Discovering Indiana's best small towns! Now get little Indiana on your Kindle.
New! Offering affordable online advertising for your small Indiana business! little Indiana Businesses is the online presence that you've been looking for.