New to little Indiana? Subscribe for free to my RSS feed. Thanks for stopping by!
This marks the start of a new series at little Indiana: Indiana Blogs! If you are an Indiana Blogger, please use the contact form and send me an email. You may be featured right here on little Indiana.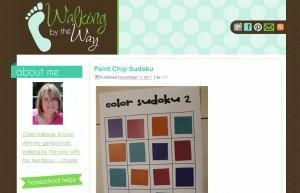 Indiana Blogs: Walking By The Way
Walking by the Way is an educational blog for anyone to enjoy. While her focus is on homeschooling families, don't let that scare you away.
With such fun and interesting ways to engage kids and make them think, I found myself sucked into her blog–when I should have been getting this article ready for publishing!
You'll enjoy this Indiana blogger for the awesome tips and tricks to help kids remember and learn. I've snagged a few of her ideas to use on road trips with the kids!
Indiana Blogs: Walking by the Way
Why did you start Walking by The Way?
I started Walking by the Way in 2007 to chronicle our homeschool journey.
What about that name? Why Walking by The Way?
In Deuteronomy 6:7 we are instructed to diligently teach our children to love the Lord with all their hearts. We are to talk of them when we sit in our houses and when we walk by the way and when we lie down and when we rise up . . ."
I wanted a special reminder of this instruction, so I named my blog "Walking by the Way" (which sounds a lot better than "Sitting in Your House"). I've learned that homeschooling gives me many unique opportunities to walk by the way with my children.
What are three of your most favorite posts?
Free Range Education– I'm still learning how to do this.
Not exactly my favorite, but a favorite of readers 'round the globe- Lego Unit & Lapbook
I believe that reading to your kids is vital, so one of my favorite posts is A Good Book.
What keeps you ready and raring to post? Why do you blog?
I blog so I will remember. I blog for family living far away. I blog to think out loud. I blog so that my children will have my words when I'm gone.

Homeschooling, eh? Tell us all about Homeschool Share!
Wow. Does everyone know my secret? 
I started Homeschool Share when my oldest son was four. I was looking for a few literature based unit studies, and I couldn't find what I wanted . . . so I wrote my own. I decided to put them online and ask other moms who'd written their own curriculum to share them with the site.
I recently had to write a bio for the Homeschool Share blog, and this is what I wrote, "Ami still wonders how Homeschool Share happened. The best formula she can find is: a regular girl with a little idea + God's grace + helping hands = a website serving thousands of homeschoolers around the world." That sums it up!
What is the most surprising thing you discovered when you took the plunge into homeschooling?
I thought I was doing this homeschooling thing to mold & shape my kids. Instead, God is using THEM to mold & shape me. Surprise!

You are in the car. Alone. What song do you turn up? LOUD!
Oh dear. I don't have a working radio (or even a working car at the moment), but if I could . . . it would be something by Third Day. Anything by Third Day.

Anything else that you want little Indiana readers to know?
If you like to tour Indiana with your kids, check out my Facebook group: Wander Indiana
No matter how together I might appear to be (as you read my blog), I'm actually pretty crazy!
Learning and Growing
Homeschooling family or not, her monthly calendar at  Homeschool Share is so much fun! Thanks Ami for stopping by today.
little Indiana: Where to Stay, Play, and Eat in Small Towns in Indiana. Discovering Indiana's best small towns! Now get little Indiana on your Kindle.
Targeted. Relevant. Affordable! little Indiana advertising!