New to little Indiana? Subscribe for free to my RSS feed. Thanks for stopping by!
This marks the start of a new series at little Indiana: Indiana Blogs! If you are an Indiana Blogger, please use the contact form and send me an email. You may be featured right here on little Indiana.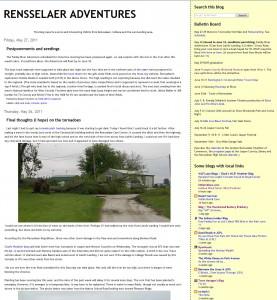 Indiana Blogs: Rensselaer Adventures Website
Rensselaer Adventures is an Indiana blog that will make you want to pick up and move to Rensselaer–or at least a small town. It's very chatty–you'll find out the latest goings on in the area as well as a bit about the local flora and fauna.
Robert  Schenk, the man behind Rensselaer Adventures, was also the first person to approach (sleep-deprived and frazzled) me and ask, "Are you little Indiana?"
Indiana Blogs: Rensselaer Adventures

Why did you start Rensselaer Adventures?
I started blogging in the summer of 2008. I do not remember exactly what I was thinking at the time, but I am pretty sure that I began blogging because my daughter started a blog, Desert Survivor, and I wanted to see what blogging was all about.
I originally thought a blog might complement my on-line economics book, but that fizzled out. It took a few months for the idea of a Rensselaer-focused blog to form. I started Rensselaer Adventures in September of 2009.
When I signed up at blogger.com, I needed an ID and I thought a play on my daughter's ID, Desert Survivor, would be funny. That is why my blogger ID is Dessert Survivor.
What are three of your favorite posts (with links please!)?
It is really hard to pick three favorites. My blog posts reflect my interests, and you can see that I like construction and demolition, new business arrivals and departures, history, and nature. (I stay away from food because I cannot complete with
Little Indiana
.) Here are three posts that will do as well as any group of three:
Setting a Bridge
(He braved the cold for that one!) Closing Up (Thank goodness I didn't end up in this one inhaling fair food!)
Silver Linings (Ice storms. Ew! But the pics Robert got from them? Awesome)

What's your favorite part of blogging?
The main reason I have kept blogging is that the experience has been educational. In doing these posts I have learned a lot that I otherwise would not have known and I have had an excuse to do things that I otherwise would not have done. A minor reason (at least I hope it is a minor reason) is that I seem to have inherited a bit of my mother's obsessive-compulsive disorder, though it manifests itself in me very differently than it did in my mother.

What do you want little Indiana readers to know about Rensselaer, Indiana?
When I taught at Saint Joseph's College I kept hearing students say that they were bored because there was nothing to do. That attitude said more about them than their surroundings. No matter where you are, there are interesting people and things all around you. Part of the adventure of life is going out and finding them. I happened to have landed in Rensselaer and I am trying to enjoy what it has to offer.
The Internet and the communications revolution have brought some of the conveniences and benefits of large cities to towns like Rensselaer but they have not given large cities any conveniences or benefits of small towns. Hence, places like Rensselaer have become relatively more attractive places to live.
Small Town Living at its Finest
I couldn't have said it better myself. We live in small towns because we like knowing our neighbors. Thanks to Robert Schenk of Rensselaer Adventures for dropping by little Indiana and telling us all about his Indiana blog!