New to little Indiana? Subscribe for free to my RSS feed. Thanks for stopping by!
This marks the start of a new series at little Indiana: Indiana Blogs! If you are an Indiana Blogger, please use the contact form and send me an email. You may be featured right here on little Indiana.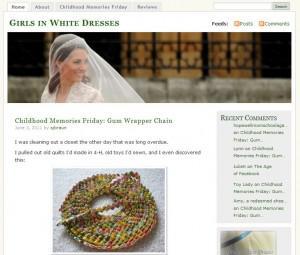 Indiana Blogs: Girls in White Dresses
Girls in White Dresses is a combination of many things. If you grew up in the 60′s and 70′s, you are going to love this Indiana blog. If you didn't? You'll still love it! Read it for the many book reviews, the yummy menu plans (with recipes!), and the adventures of her family.
This Hoosier is fun, funny, and writes about her favorite things–just like the old Sound of Music song My Favorite Things (remember the song lyrics?). I love this Indiana blog and am excited to share it with you!
Indiana Blogs: Girls in White Dresses
Why did you start Girls in White Dresses?
My then 11-year-old daughter had been blogging awhile (at Peaches and Cream) and she encouraged me to start. I liked to read blogs, but I wasn't sure I wanted to commit to writing my own. At times, I still question it, since I post each weekday and that's quite a bit of work! But 2 1/2 years into this adventure, I can't imagine not blogging!

How long have you been writing Girls in White Dresses?
Since November, 2008.
What are three of your favorite things?
"Childhood Memories Friday" posts about growing up in Indiana.
British Royalty – I've been crazy about the royals since Charles and Diana were an item. I got up at the crack of dawn as a teen to watch their wedding, wrote my senior research paper on the Royal Romance, and – you get the idea. My engagement ring is a copy of Diana's (well, now Catherine's).
Pets – we have 3 rabbits and a chinchilla, and recently lost our beloved hedgehog.
What's your favorite part of blogging?
I love learning that it's a big world out there. There are so many interesting people I've met through my blog who I'd never have known of otherwise. I'm quite introverted in real life, so blogging has expanded my world!
What do you want little Indiana readers to know about your blog?
If you grew up in the 1960s and 1970s, as I did, you'll enjoy my Friday Childhood Memories posts. I have so many memories of growing up as a Hoosier: passing the Jug Rock on the way to my grandparents' houses,  tornadoes, Cowboy Bob, Sammy Terry, Janie, the Blizzard of '78 … you get the idea.
Also, fun fact:  I grew up in Seymour, home of rocker John Mellencamp. My dad was his junior high basketball coach!
Personal and Engaging
Now that's an Indiana blog that's chatty and fun–reminds me a whole lot of small town life, don't'cha think? Thanks to Susan at Girls in White Dresses for stopping by little Indiana and sharing her story.
little Indiana: Where to Stay, Play, and Eat in Small Towns in Indiana. Discovering Indiana's best small towns! Now get little Indiana on your Kindle.
New! Offering affordable online advertising for your small Indiana business! little Indiana Businesses is the online presence that you've been looking for.