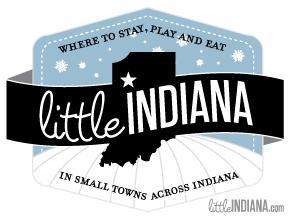 Indiana Blogs: Hoosier Updates from Around the Web!
I thought it would be fun to highlight one article each week from the Hoosier bloggers you know and love. You know, previously
 Featured little Indiana Bloggers
!
Just like the bloggers, no two weeks will ever be the same! Like a fine box of Indiana chocolates, you never know what you are going to get.
If you are an Indiana blogger and would like to be featured on little Indiana, please let me know via email or in the comments below. Now, let's get caught up with what our Hoosier bloggers were doing this week!
Indiana Blog Updates
The categories may change each week but look for the bold-faced category items to easily navigate to the topics you prefer.
Recipes and Food
Hull Family Homestead: French Onion Soup with Baked Herb Baguette Croutons – Delicious soup with a flavorful onion broth, thanks to this trick!
Reckermended: Caramelized White Fish with Roasted Cauliflower and Leeks – Completed in under 40 minutes!
Sarah Lynn's Sweets: Pi Day Snacks – Sweet treats!
A Latte with Ott, A: Hawaiian Ham Sammies – BBQ and Pineapple ham sandwiches.
Eternal Lizdom: I Hate Coconut Oil — How she really feels about coconut oil.
Treble in the Kitchen: Chicken Sweet Potato Spinach Curry – Healthy and pretty!
The Hidden Pantry: Megan's Steel Cut Oatmeal – Wonderful warm breakfast option.
Everyday Mom's Meals: Even More Take Out At Home – Shrimp Fried Rice.
Travel and History
BIG CITY, little Indiana: Jim Dandy's Diner in Hobart, Indiana: 1950?s Themed Fun – Homemade fries, hand-dipped milkshakes, and fresh ground hamburgers!
Beta Motivation: Funny Reaction to Seeing the Taj Mahal for the First Time – Life-long dream fulfilled? Check.
Candidly Clyde: Late February Walk in Fountain Square — A day without freezing cold temperatures means it is time for a walk!
Something Monumental: Abandoned – Some abandoned sites in pictures.
Basilmomma: Vintage Indiana Wine & Food Festival – Wine! Wine! Food!
Historic Indianapolis: What's in a Name: Lockefield Gardens – One of the first public housing projects in the United States!
Arrows Sent Forth: A day at Parques das Nacoes in Lisbon – Exploring a redeveloped section of Lisbon.
Indiana Authors and Writers
You Think Too Much: Madison Monday: While you were gone – The release of her second edition textbook, writing projects, and more!
That Darn Kat: Breakdowns and breakthroughs – Laptop death and the loss of a couple works in progress.
Marian Allen: Steamy Penguins For Your Sampling Pleasure – A writing prompt using scotch.
IU Press Blog: Guest post: "Things are just beginning for us": Ukrainian perspectives – The real deal.
Eclectic Insights: Sam's Sunday Snippets – Tall, Dark & Apocalyptic – Available Now! – A dark, adult tale set in a fantasy world.
Education and Crafts
TJL Genes:Gathering Rosebuds – Making phone calls to track down information about long dead family members!
Acton Creative: Weaving's not just black and white… – There are so many variables a weaver may change!
Woodclinched: Presenting: the Erasable podcast! – New pencil news with a team of pencil lovers!
Our Little Monkeys: Little Hearts For His Glory, Unit 20 – Another week of school.
Snail Pace Transformations: How To Sew A Simple Kindle Paperwhite Case – Protect your Kindle in style! (affiliate links)
Spell Outloud: Easter Resources for Families– Where to find what you need for educational Easter materials. (affiliate links)
Tulle and Trinkets: DIY Spring Wreath – Easy to make and a pretty way to jazz up a door!
Mouse in My Pocket: Works in Progress – No new finished projects this week–but there area few in progress!
Walking the Off-Beaten Path: Junior Achievement 3rd Grade Style – Teaching money management to third graders.
Patty's Pretty Things: St. Patrick's Day Tags & More – Fun with making tags!
Gardens and Gardening
May Dreams Gardens: I'm growing candy in my garden – Strawberries, cherry tomatoes, raspberries, and more!
Hoosier Gardener: Hosta needs water at key times of year – Water hosta these months to ensure a healthy plant!
Health and Fitness
53Blonde: there are pros, and there are cons – Running has multiple perks and a sort of downside.
Creating a Better Tomorrow: Treat Yourself to a Good Cry – It's not just a pregnancy hormone thing!
Fashion and Clothing
Sarah's Real Life: Boys' Club – Shopping from the boys' department saves her some money.
CurlyByrdie Chirps: Snow Snow go Away – Schoolgirl chic.
Quirky Britches: WIW 01 I A Boyish Look – Loose plaid shirt and boyfriend jeans.
Personal
Mom for Less: Life | I'm Down – Dealing with the past brings up heavy emotions.
Just like the Number: Home: A Year Later – Reflecting on the joy of a great community.
Tales from the Coop Keeper: The Story of Mother Wilma – Living in the present.
Meemaw Moments: 2014 Week 10 – The week in review!
Jean's Boots are Made for Talking: Stick With Me – Unexpected yet happy disruptions.
Girls in White Dresses: Childhood Memories Friday: Playhouse Memories – A playhouse, complete with curtains.
What's Up Fagans?: Fridays – Recap of the busy week.
Small Towns: Destinations, not Drive-Thrus! I'm Jessica Nunemaker and THIS is little Indiana!
Find pictures in Indiana on my Flickr photostream or on the new little Indiana Tumblr blog.
Just don't forget to tell 'em that  little Indiana sent you!
Don't miss a moment. Subscribe to little Indiana and receive instant updates to stay on top of everything "little."
little Indiana: Where to Stay, Play, and Eat in Small Towns in Indiana. Discovering Indiana's best small towns! Now get little Indiana on your Kindle.
Targeted. Relevant. Affordable! little Indiana advertising.