0 Flares
0 Flares
×
New to little Indiana? Subscribe for free to my RSS feed. Thanks for stopping by!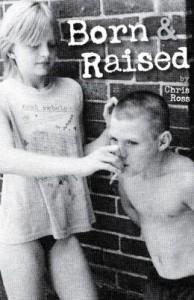 Born and Raised by Chris Ross
Born and Raised by Indiana author (once a Hoosier, always a Hoosier) Chris Ross is a coming of age story that focuses on an Indiana family. Sort of.
They were a family–at least until their mother ran off with the bookmobile driver leaving their father behind, clueless and dejected.
Born & Raised by Indiana Author Chris Ross
I judge books by their cover so I was a bit hesitant when I saw the cover of this one: two scruffy, probably underage kids smoking? That's just not cool.
But inside, well, I was happily surprised! Chris Ross and his writing sucked me in. Once I began I didn't stop and finished it in two days.
Theirs is a life different from the one that I knew while growing up in Indiana and yet (at least judging from my Facebook feed anyway) it's a life many kids still understand, unfortunately.
Growing Pains
The main character, Sean, drinks root beer floats for dinner and watches his father, Roy, change his style much like the seasons.
When Roy is not caught up in his own appearance and trying to snag female attention (if only for a night), he is most likely arguing with his daughter, Billie. Billie is…I don't know exactly how to describe Billie. She's a  force to deal with and has her own agenda.
Sean is largely left alone. Sean is neglected, yes, but is one of those people with an inner strength to cut through the garbage (like his family's dysfunction) and have a chance at a life that is a bit happier than the rest of them!
Southern Indiana Setting
This is not a book that I would recommend for everybody. It's edgy and definitely for an adult reader but it's also a delightfully different read.
Chris Ross has a very nice turn of phrase: "Resetting her rearview mirror, she turned her fever blister to me—How's it look? I said—Like you should leave it alone. She said—I can't."
He makes you feel for these characters. You may not always like them but you get them. In fact, a few of them will probably disgust you. And yet…from the beginning to the end, this is a page turner. Especially for an optimist like me–I hope for things  to work out in the end! Do they? Well, you'll have to read the book yourself and find out.
Great Summer Reading
I didn't move from our front porch swing for two days. Those of you who don't mind a dark story every now and again will appreciate the writing in this one, too.
Find it at an Indiana bookstore near you!
Find pictures in Indiana on my Flickr photostream or on the new little Indiana Tumblr blog.
Just don't forget to tell 'em that  little Indiana sent you!
Don't miss a moment. Subscribe to little Indiana and receive instant updates to stay on top of everything "little."
little Indiana: Where to Stay, Play, and Eat in Small Towns in Indiana. Discovering Indiana's best small towns! Now get little Indiana on your Kindle.
Targeted. Relevant. Affordable! little Indiana advertising.