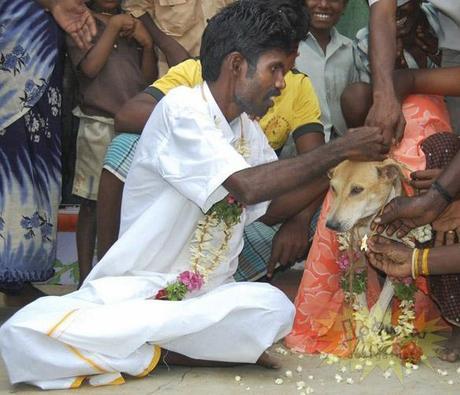 The Wedding of P Selvakumar and "Selvi" a 10-year old stray dog | photo: Fox News

For us humans who can clearly remember their wedding day, it was undoubtedly one of the most cherished moments in your life. Right after you were pronounced, a kiss went to your significant other. In the case of 33 year-old P Selvakumar, a farm laborer from the southern state of Tamil Nadu, India, his significant other happens to be a dog!
Back in 2007, P Selvakumar wanted to atone an unspeakable crime he committed as a teenager that shook the Pet World!: He ended the lives of two dogs by clubbing and stoning them and hung their bodies on a tree all because he found them mating. According to the BBC News, Selvakumar said he had been "cursed since the killings, suffering paralysis and a loss of hearing,"  No longer wanting to endure the "dog curse," Selvakumar sought the help of an astrologer who told him he needed to marry a dog to remedy the curse. As superstitions are still rooted in rural India, people organize weddings to animals to ward of curses.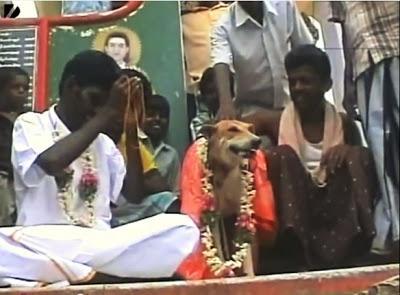 As superstitions are still rooted in rural India, people organize weddings to animals to ward of curses
Selvakumar opted for the wedding which took place at the temple in Tamil Nadu that was presented by members of his family. The name of the stray dog/bride is "Selvi," who is bathed and then dressed in a ceremonial orange sari with a garland of flowers around her neck. According to quotes obtained via 
Fox News
 Selvakumar recited his marriage vows and said "I will take care of it until its death."


The "couple" was then  declared married. 

The reception reportedly had a turnout of 200 guests at the groom's house where the bride, "Selvi" became restless and ran away. "Selvi" was later found and brought back where her husband gave her milk and a bun .




watch incredible video of the wedding between Selvakumar and Selvi:

Source: BBC News | Fox News | The Telegraph