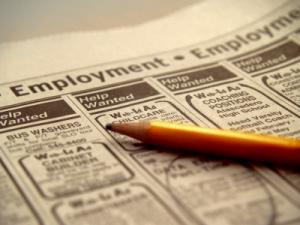 Employment...
A quarter of the Indian employers are uncertain about their recruiting plans for the period Oct-Dec of this year, according to the Manpower Employment Outlook Survey. This would be the slowest pace of hiring since 2010. Still, India is the most aggressive in Recruitment intentions says the global staffing services firm Manpower.
The report suggests that India Inc. has positive hiring plans for the last quarter of 2011, but it's lower than what it was for the previous quarter. With a net employment outlook (a pointer for recruitment intentions) of 37%,  the service sector has the most active hiring plans. The same figure stands weak with 32% and 16% for manufacturing , and public administration & education sector.
Manpower India Managing Director Sanjay Pandit says that in the wake of uncertainties in global markets, employers in India are adopting a wait-and-watch policy. He feels that this might probably be the reason employers can't be seen to committing to the same optimistic hiring plans they reported at the beginning of 2011.
A decline in the hiring activity of three out of four Indian regions can be seen through the zonal-wise analysis. The fall in the outlook percentage of  eastern and northern region was 7 percentage points and 17 percentage points respectively, in comparison to their previous quarters. Whereas, the western region was the weakest with a fall of 19 percentage points. The southern reported an unchanged employment outlook of 42%.
Out of the 41 countries and territories surveyed the hiring expectations were positive in 36 countries. India accompanies Brazil, Taiwan, Singapore, Panama, New Zealand, Colombia and Hong Kong as countries with the strongest employment outlooks. Whereas, the job-seekers from the US will have a tough time, since it's employment outlook is the weakest for the last quarter of the year.