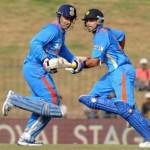 What could be a better start for a season that India got in Sri Lanka. India won their first ODI against home team as Sri Lanka fell just 21 runs short. Chasing 315 to win, Sri Lanka were always behind the game as the visitors kept picking regular wickets. Sanga was the only batsmen to defy the Indians and by the the time he found support in Thisara Perera at the end it was too late.
Sangakkara ended with a superb 133 off 151 to keep Sri Lanka in the hunt, but the failure of other batsmen proved to be the downfall for Sri Lanka. Earlier, a brilliant ton by Virat Kohli and 96 by Virender Sehwag gave India a mammoth total.
India started off on a good note as skipper MS Dhoni won the toss and elected to bat. India started to assert their dominance after drinks break as both Sehwag and Kohli started milking the toothless Sri Lankan attack. The chances that were aplenty in the first hour for SL suddenly disappeared. There were truckloads of boundaries instead as the Indians laid the perfect platform or a slambang ending.
The Sri Lankan start mirrored India's. Dilshan was given an early reprieve when Sehwag put down a regulation catch at 1st slip. India also got an early wicket when Irfan Pathan got rid of Dilshan in his first over. And like India, Sri Lanka also benefited from a healthy 2nd wicket stand and some atrocious fielding. India however changed things around before it got out of hand as R Ashwin picked up the wicket of Tharanga early in his spell. Dinesh Chandimal and Mahela Jayawardene too did not give much company to Kumar Sangakkara.
Brief Scorecard:
India: 34 runs (6 wkts, 50 overs), Virat Kohli – 106 runs (113 balls), Virender Sehwag – 96 runs (97 balls), Thisara Perera- 3 wkts (10 overs, 70 runs)
Sri Lanks: 293 runs(9 wkts, 50 overs), Kumar Sangakkara – 133 runs (151 balls), Thisara Perera – 44 runs (28 balls), Irfan Pathan – 3 wkts (10 overs, 37 runs)
Result: India won by 21 runs