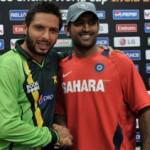 As reported earlier, After five years of no cricket, India and Pakistan will play again this December. The cricket boards of the two countries have agreed to play three One-Day Internationals and two Twenty20 Internationals during the Christmas break. India will host the series.
"It was decided to resume cricketing ties with Pakistan by inviting the Pakistan cricket team for a short series in December 2012 – January 2013. The modalities will be worked out shortly," BCCI said in its statement.
The One-Dayers will be played in New Delhi, Kolkata and Chennai and Bangalore and Ahmedabad will host the two T20 matches.
India has a packed cricket schedule this year and the Indo-Pak matches will be accommodated in the middle of England's tour to India. England will finish playing Tests and the team will fly back for Christmas. They will be back in the New Year to play ODIs.
BCCI member Rajiv Shukla said that the Pakistan Cricket Board has been urging for resumption of cricketing ties. "We played after 1965 war and the 1971 war and even after Kargil. People also wanted cricket to be played. Our decision was taken after PCB appealed to us. They also spoke to BCCI president N Srinivasan. I spoke with the government as well," he said.