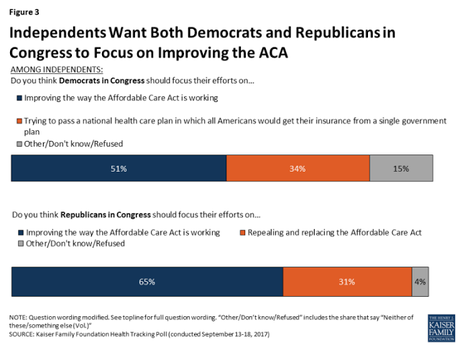 Republicans still want Obamacare repealed and replaced. Some Democrats are now willing to abandon Obamacare and pursue a single-payer system. What do Independents want?
The chart above shows what they want. By a 34 point margin, the Independents want the Republicans to stop trying to repeal Obamacare and concentrate on fixing its problems. And by a 17 point margin, they want Democrats to also concentrate on fixing the problems with Obamacare.
The two parties need to pay attention to what Independents want. Neither party has enough members (i.e., voters) to win in 2018 or 2020 by themselves. Independents will decide the election in those years, and the party that gives Independents what they want will be the party that wins.
I personally think a single-payer system would be best, but that's not going to happen right now. Democrats need to focus their efforts right now on fixing Obamacare.
The chart above is from a new Kaiser Family Foundation survey -- done between September 13th and 18th of a random national sample of 1,179 adults, with a 3 point margin of error (with the margin of error for Independents at 6 points).