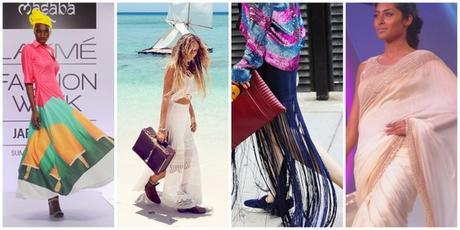 This week, IFB members made a lot of lists. It's not that surprising—bloggers are known for making lists. But among this week's submissions, I was impressed by the spectrum of topics featured, from 3 ways to wear a 

white 

shirt

, to 4 Kentucky Derby looks to 20 ways to wear short hair (with a video!). The originality of IFB is always impressive.

And as you know, we don't usually choose outfit posts for LALM, unless they have an exceptionally compelling angle. This week, we went for it because anyone who braves a swarm of bees for an #OOTD photo deserves a shout out. On to the links!
Links à la Mode: April 23
Anami Blog: How to Do Natural Makeup
Christie Moeller: How to Keep White Shoes Pristine
Curvy Elle: 6 Tips for Buying Vintage Clothing
Keily's Fashion Picks: The AirBnB of Dresses: StyleLend
Les Assorties': Paris Je T'aime: Shagreen et Tortoise
Invictus: Swarm of Bees
Fashionopolis: Liva: The New Age Fluid Fabric
Funky Jungle: 5 Reasons for Shopping in a Brick and Mortar Store
Modavracha's Spot: How to Wear the Fringe Trend
My Bougeotte: 5 Clothing Lines for the Wanderluster
Musings of a Fashion Designer: The Color Rioters
Omnia Vitae: Three Ways to Style a White Shirt
Purushu: 6 Years of Blogging and Beyond
Riva La Diva: DIY M Missoni Fruity Earrings
Save, Spend, Splurge: 10 Uncommon Closet Essentials
Style Bizarre: Your Cruelty-Free Wardrobe Book
Suzanne Carillo: Easy Floral DIY Painted Shoes
The Outfit Repeater: 20 Ways to Style Short Hair
TLV Birdie: It's All About Makeup—Green Beauty Bloggers Community
Try It on Me: Kentucky Derby Style, Four Ways
SPONSOR: Shopbop:Paloma Barcelo, Splits59, Activewear, Khaki leggings,
Carhartt
, Eyelet dresses, Lace up wedges, Navy pumps, Mint & Aqua Dresses
Want to be featured in Links à la Mode?
1. Read the clarified rules and submit your links on this page:
Links à la Mode.
2.
If your link was selected
and you need this week's code, visit this page:
Links à la Mode Code.