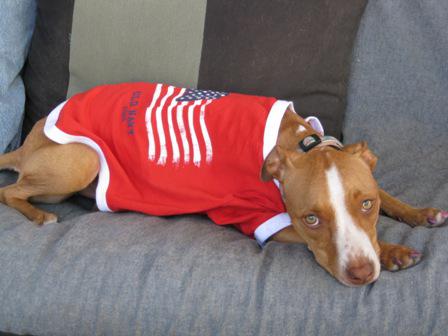 The busiest day of the summer at most animal shelters around the country is July 5.
Shelters are "absolutely chock full of terrified dogs on the day after the Fourth of July," said Dr. Kate F. Hurley, director of the Koret Shelter Medicine Program at the University of California at Davis Center for Companion Animal Health.
When she was an animal control officer, she saw dogs "jump through plate glass windows, they were so freaked out." Severely stressed dogs may even need tranquilizers to get through the night, she said.
"Cats don't seem to make an issue of fireworks," Hurley added.
Loud, crowded public fireworks displays are hazardous for pets, so the American Society for the Prevention of Cruelty to Animals advises pet owners to stay home.
No matter how quiet and escape-proof you try to make your home, accidents happen and dogs bolt, so the single best thing you can do for your dog is have a chip implanted and make sure it's wearing a tag on its collar, said Brenda Barnette, general manager of the Los Angeles Department of Animal Services.
There are a lot of other things owners can do to help their dogs get through the terror:
- Keep pets indoors: If you are having company, keep pets in a room that is off-limits to guests. Make sure there is plenty of food and water.
- Keep it calm: Surround dogs with favorite toys and familiar objects. Play soothing music and close doors to keep it quiet.
- Keep a barrier: Even if dogs don't seem upset by the noise, getting too close to fireworks can cause burns and eating them can be toxic.