Microsoft has joined hands with IFTTT with their Office 365 service which will allow you to trigger actions on IFTTT in your Office 365 products like Mail, OneDrive, Calendar and Contacts.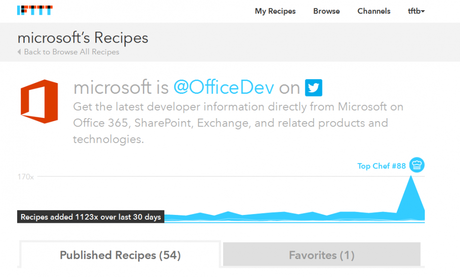 When these channels are activated, you are able to automate what gets mailed, uploaded to OneDrive or added to Calendar & Contacts when required. Microsoft has setup about 30 recipes with their new Office 365 channels most of which are business oriented.
Some OneDrive uses are really efficient, you can archive photos you post on Instagram or Facebook Page or Flickr or iOS Photos to OneDrive.
Mail channels enables you to automate some mailing process with the DO Channel, you can send current location in mail to someone with the channel which helps if you are running late or need to co-ordinate with your team as and when required. Some trigger functions also help you setup calendar entries about events and meetings and even inform some more members via email about the meetings.
Microsoft's IFTTT Shared Recipes
Source : Office Blogs | Office 365 Channels are live on IFTTT