How building relationships with suppliers and standardizing packaging can help
Like the problems turn-of-the-century industrial manufacturers faced when tools were inadvertently tossed into machinery, inconsistent packaging can sabotage even the highest-performing inbound supply chain. The issues that result from inconsistent packaging of raw materials can negatively impact even the highest-performing inbound supply chains – and affect end users, customers and employees alike. The first step toward keeping raw materials flowing smoothly is to build strong relationships with suppliers. And when it comes to packaging, here are four ways standard packs/packaging can deliver even more value.
Challenge #1: Different Boxes and Containers for Every Shipment
This is a common problem faced by many industrial manufacturers: every time they ship products, suppliers pack them in boxes or pallets with different dimensions. As a result, production facilities don't have the required line-side space to properly present products – and retain the original packaging.
How Standard Packs Help: Better Planning
Want to make sure you have the line-side capacity to properly present products? Specify standard pack quantities well before the first product shipment arrives at your door.  Once a standard pack quantity is selected, packaging can be developed to meet the pack quantity specified for that product. Every day, week or month the product is received, it comes in the same packaging in the same quantities.




Takeaway: Consistent Packs Minimize Line-side Adjustments
By standardizing pack quantities, you no longer have to make adjustments at the manufacturing line to house received goods.  To save time, money and effort when planning future facility layout changes, create a footprint of your manufacturing facility today.
Challenge #2:  Unnecessary Touches/Repacking after Products are Received
One of the fundamental tenets of Lean manufacturing: the faster you move materials from one source to another, the more valuable you become to customers. Every time a product is touched, the risk of additional cost, damage or time rises.  Receiving products in inconsistent packages requires more steps, labor and valuable time that few manufacturers can afford.
How Standard Packs Help: Fewer Touches, Less Time and Effort
Once your warehouse receives a product, it may have to get to a variety of other workstations, facilities, manufacturing lines and even geographic destinations to reach end users.  Standardizing pack quantities eliminates the need to break up and/or repack products. It can also save the time and effort required by employees at the receiving dock and in the warehouse.
Takeaway: Standard Pack Quantities Get Products to Market Faster
A recent time study revealed that implementing standard pack quantities generated an overall improvement of 200 percent in the time required to receive, put away and pick products compared to previous methods.
Challenge #3:  Lack of Ergonomics and Negative Impacts on Safety
When you think of packaging, you think of many things … efficiency, sustainability, customer appeal. But one of the most overlooked considerations is material handling safety. In some industries, product weight is very high compared to size or volume. This often happens because suppliers choose inappropriate packaging when standard packs aren't specified. When products or package weights exceed specified ergonomic requirements, it can be difficult and even dangerous for employees and customers to handle them. The result? Product damage or, worse still, injuries to employees or customers.
How Standard Packs Help: Lower Weight Packages = Safer Handling
By specifying standard packs and pack quantities that are safer, issues with material handling – and negative impacts to employees and customers – can be eliminated.
Takeaway: Adhering to Container Weight Guidelines Minimizes the Risk of Injury
Refer to the following guidelines to maintain container weights at a safe level for anyone who's handling materials to reduce the risk of injury in the manufacturing plant. In addition to improving safety, streamlining container weight means less heavy lifting, which, in turn, can boost productivity.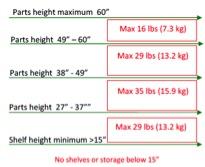 Challenge #4: Inconsistent Packaging Drives Up Logistics Costs
In addition to negatively impacting planning, supply chain velocity, and safety, inconsistent packaging can have a negative impact on your bottom line, increasing the costs associated with packaging and logistics.  When manufacturers don't specify standard packs or pack quantities, package styles and sizes are left to the supplier. In an effort to minimize product damage or keep customers happy, suppliers may over-pack products.
This creates two problems. First, the added costs are passed on to the manufacturer. Second, the manufacturer now has to dispose of excess packaging, which increases handling time and costs. On the flip side, suppliers may under-pack, which results in product damage. Finally, transportation and logistics costs are usually higher because suppliers rarely take advantage of the most efficient shipping methods.
How Standard Packs Help: Specifying Packaging Puts Manufacturers in the Driver's Seat
By specifying standard packs and packaging quantities, manufacturers are able to take control of the packages that contain received products.
Takeaway: Taking Control of Packaging Delivers Benefits
By specifying standard packs/quantities, manufacturers can replace inefficient packaging methods with methods that protect products better, lower shipping costs and promote material savings.
How does your company receive goods? Are you in control of received packaging – or are your suppliers? Is inconsistent packaging throwing a monkey wrench into your supply chain? Could you benefit by specifying standard pack quantities?
About the Author 
Haley Spindler and Jason Berkholder. Jason and Haley are packaging engineers for Ryder's Supply Chain Solutions Industrial and Aerospace Operations.