Today's inbox inquiry comes from a Twitter follower wanting to know about kitchen cabinets.  Please see my response below and share your own advice in the comments section!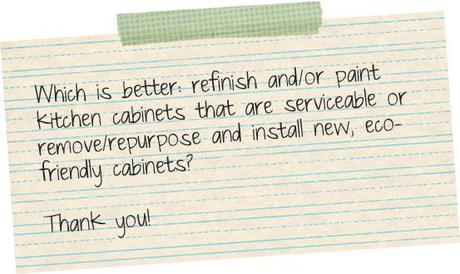 Answer:
It's definitely better to refinish or reface your existing kitchen cabinets versus install new ones, even if you're installing eco-friendly ones.
The greenest, eco-friendliest option is making your current kitchen cabinets work instead of replacing them.  By painting, refinishing and repairing, instead of replacing, you'll save water, energy and other natural resources and have extra cash in your back pocket.
If you must go with new cabinets, opt for bamboo or wood certified by the Forest Stewardship Council (FSC).  Choose wood bonded with formaldehyde-free glue and finished with low or no-VOC (volatile organic compounds) varnish.
Also by using existing cabinet's, you avoid adding a few hundred pounds of particleboard or plywood to the waste stream.  There are some organizations that will take them for recycling.  In Portland, organizations such as the Rebuilding Center is an option, but it's always best to check first due to current inventory.
Formaldehyde
Probably the most important environmental benefit of cabinet refacing, however, has to do with indoor air quality.  The off-gassing of urea-formaldehyde resins found in plywood and particleboard cabinetry can be quite toxic.  People with chemical sensitivities can experience respiratory problems and nausea in the presence of formaldehyde gas.
According to the Environmental Protection Agency (EPA), "In homes, the most significant sources of formaldehyde are likely to be pressed-wood products made using adhesives that contain urea-formaldehyde resins. Pressed-wood products made for indoor use include: particleboard (used as sub-flooring and shelving and in cabinetry and furniture); hardwood plywood paneling (used for decorative wall covering and used in cabinets and furniture); and MDF (used for drawer fronts, cabinets and furniture tops)."  Formaldehyde tends to off-gas more rapidly at first but then decreases over time.  For example, ten-year-old cabinets shouldn't emit much formaldehyde, if any at all.  So why replace them with new ones that pose a health risk.  Opting for eco-friendly cabinets are an option, but refacing or refinishing is always a better option.
If you're looking for more detailed information on cabinets, check out the Green Building Green Cabinets Guide.  It takes you through a series of questions, helps you formulate the right plan, gives you a better understanding of air quality and resource conservation and goes over common materials found in cabinets to help make your decision easier.